Find a Polo club anywhere!
People Profiles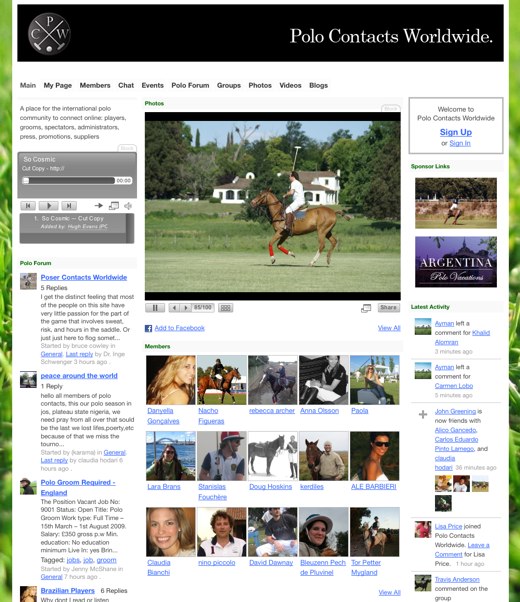 Polo Contacts Worldwide does a fantastic job of bringing people from around the world together through their common interest: Polo!
Just under a year ago, we blogged about the network, and the great strides it made in bringing together the global polo community. A lot has changed in the year since, but the network is stronger (and more active) than ever, with thousands of members that span both hemispheres.
Recently we spoke with Network Creator Hugh Evans about his experience starting and running the network, and he shared his advice for fellow Network Creators.
Tell me about your network.
In October last year, I was planning a trip to Singapore over New Year's. I'd been told that Singapore Polo Club was a great place to play or visit but I didn't know anyone. So I put Polo Contacts Worldwide together using Ning, thinking it could help me find contacts to find some Polo while traveling. After putting the network together I sent it to a few Polo friends, they sent it to their friends and voila! I got some great contacts for Singapore Polo. It's just continued to grow from there.
How do you keep your members entertained and involved in the network?
They tend to entertain themselves. I try and keep a low profile and let the network develop organically. My role is that of a benevolent caretaker, keeping the discussion friendly and in good faith. In terms of content, I find that regularly updating the images on the front page keeps things fresh. There is a constant stream of good pictures being added on the site and I make sure they reach the front page for all to enjoy. It gives us all a real flavour of polo in different parts of the world. I have deliberately tried to offer diverse scenes involving all nationalities, age groups and genders. This has been an eye-opener for me especially as just by editing this content I have learned so much about how different people engage with the game.
Do you have any secrets up your sleeve when it comes to network management?
Think about the spirit of the community you want to create and make editing judgments accordingly. My network is all about accessibility, fun and the spirit of goodwill in polo. All of my enhancements and editing choices have been made in line with this philosophy and our members seem to resonate with this.
What is the most difficult thing when managing a network?
Dealing with the volume of requests when the site is essentially non-commercial. I will need to employ support from somewhere soon. The other challenge is staying away from the network, as community management is addictive (I also have a day job!).
What about being a successful Network Creator surprised you most?
The opportunities that have presented themselves have been a great surprise. I just got back to Australia after a trip to Argentina to watch and play Polo and much of the adventure was inspired by PCW-related contacts and activities. I had the opportunity to meet many people from PCW who had travelled to Buenos Aires for the Palermo Open polo final. The extent to which PCW has affected so many people from different parts of the world was stunning. It's one thing to see people connect on the network and contribute to photos, blogs, events etc but to actually hear stories of PCW gatherings in New York, Paris, Argentina & the UK was very special. It gives you a better appreciation of the global nature of the site and the value that it brings everyone.
Have polo tournaments or matches been organized through your network?
Several Polo tournaments have been created through PCW. Claudia Hodari, one of our most active members from Argentina, organized a global 'Polo for Peace' tournament on International Peace Day with many countries participating from around the world with concurrent events. She even had a special Iraq team play in Germany which received international press coverage on CNN!
What features do you use on your network most prominently and how do those drive your network?
The photos, featured members, latest activity and forum postings are most prominent. I think that most people want to see who else is into Polo and what it looks like in their part of the world. You can see Hawaiian players riding bareback in the sea, Iranian players galloping on the field against the beautiful backdrop of the Tehran mountains, the polished Cartier International at the Queens club in England, the dry and rugged outback of Australia, the snow Polo in St Moritz, the reclaimed land and lavishly Chinese clubhouse of the Nine Dragons Hill club in Shanghai, or the fantastic robes and headdresses of the dignitaries watching Polo from the tents in Nigeria. I could go on, and on. You don't need much more than this. It's a visual feast of people, nature, horses, architecture & lifestyles. The key is to foster and offer diversity.
What advice would you give someone who wants to create a network?
Choose a subject you have a real passion for. When your network becomes successful it also becomes challenging so make sure you have the willingness and passion to stay the course. These networks are organic and alive. Once you start it you also have a responsibility to your members.
Check out Polo Contacts Worldwide to get a taste for a passion-driven network!