Find the best in advertising at AdGabber
Ning Network Spotlight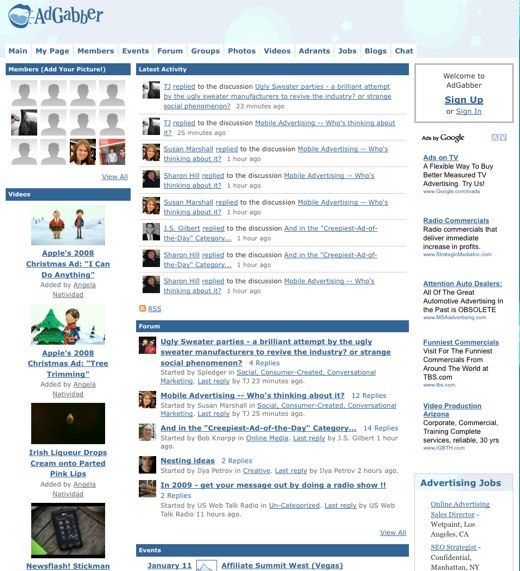 It's been over a year since we last wrote about AdGabber, and the network has made strides in the time since. It offers all the advertising-related news, tactics and media you could desire.
Network Creator Steve Hall started AdGabber to give visitors to his popular advertising blog — Adrants — a much richer interactive experience than simply commenting on his posts. To do this, he created AdGabber, which now sports more than 6,000 members.
As the Adrants blog gained popularity, Steve started spending so much time writing it that he was actually fired from his former day job. Steve's "full-time obsession" now pays all the bills, and AdGabber — with the money he makes from running his own advertisements by purchasing the Premium Service "Control the Ads" — helps with that goal as well.
By setting up AdGabber, Steve not only helps pay the bills and put a face to his visitors to help tailor his blog posts — but he gives Adrants visitors, who have become AdGabber members, a reason to keep coming back.
And that's exactly what they do.
Members have started discussions about the highlights of working in advertising, debated whether Ugly Sweater parties are simply marketing ploys and posted videos about corporate marketing strategies. Members can discover creepy ads, guidelines for radio advertising and even a warm and silly welcome for a new member.
AdGabber is the perfect complement to Steve's blog. So join the fun and join up!