Find the perfect new pup at Purebred Network
Ning Network Spotlight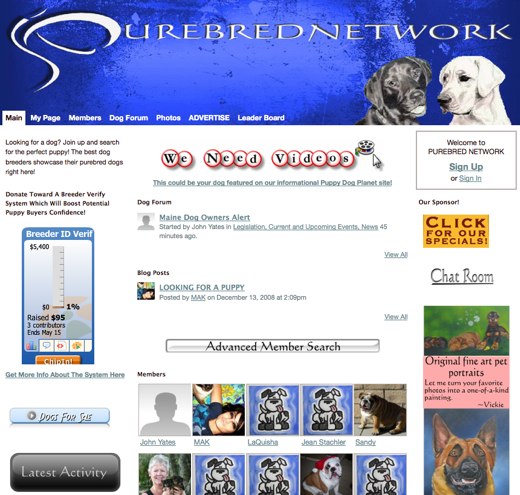 Whether you're looking for a new dog or you're just a dog lover, Purebred Network is an excellent spot to check out some fine specimens of man's best friend, and it's also got sound business acumen to learn from.
There's some serious cuteness to be found in the video and photo galleries at Purebred Network. Check out this video of Shih Tzus at war, and this adorable video of puppies trying to get out of their box to get to food. Of course, there's love for bigger dogs as well, like this fine and dignified specimen. It's easy to get lost in all of the media on Purebred Network, and this is a sign of great design.
Purebred Network has also chosen to take advantage of the Premium Service "Control the Ads." Unlike many networks that do so, it's also laid out clear guidelines for would-be advertisers and a placeholder "Advertise Here!" ad linking to the guidelines. This kind of open availability, with reasonable pricing, is a sound way to lure business to your network.
People will pay for cuteness, and Purebred Network's creator is acutely aware that he can benefit. The network itself is active and full of great content to keep members joining, and the steady activity and easy access for advertisers who see the network should have it turning a profit in no time.