A social network support group for anxious flyers
Ning Network Spotlight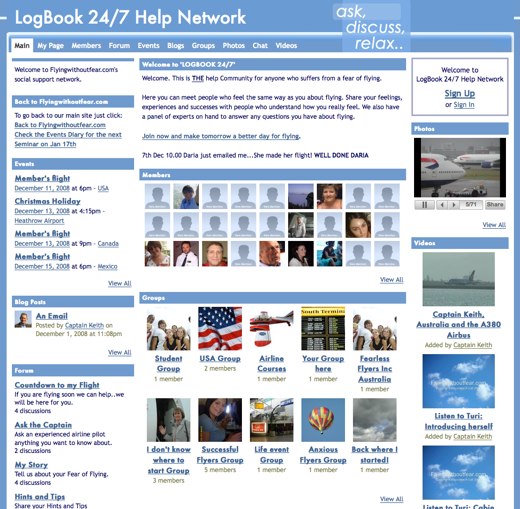 With the upcoming holidays comes the promise of families, presents and, for many, flying to visit loved ones. But for those with a fear of flying, these holiday trips invoke panic, anxiety or worse. Logbook 24/7 Help Network is the online support-group arm of Flying Without Fear and aims to help members conquer their fear of flying and take to the skies.
Logbook 24/7 has a great introduction on the top of the Main Page:
"Here you can meet people who feel the same way as you about flying. Share your feelings, experiences and successes with people who understand how you really feel. We also have a panel of experts on hand to answer any questions you have about flying."
This introduction is updated with information about Logbook 24/7's members who have successfully made their flights, offering encouragement to other members. Once a member makes a flight plan, they add it to the events section. Other members can then help support the future flight-taker by offering encouragement and support as the day of travel approaches.
In the forums, the resident experts help anxious fliers assuage their fears. Members can ask a pilot questions they might have or share hints about overcoming their anxiety.
If you or someone you know has a fear of flying, look to the Logbook 24/7 Help Network not only for support but also a great example of a social network on Ning too.