Fun and Games with MindJolt
Ning Apps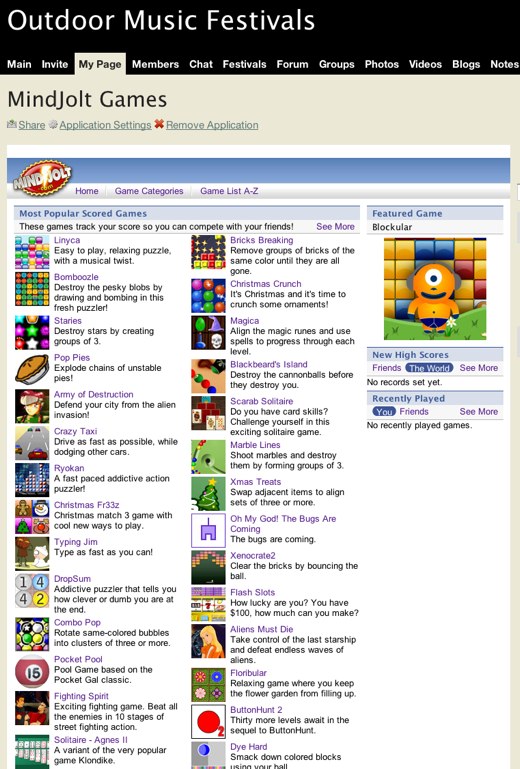 From fighting aliens to escaping a maze, playing card games to solving a puzzle, "MindJolt Games" has you covered. If you are looking for an easy way to play hundreds of games in one place, then MindJolt is the OpenSocial application for you. Have some fun on your profile page by adding MindJolt.
Whether you are in the mood for classics like pool and solitaire or want to try something new like Staries and Pop Pies, MindJolt has a game for everyone and every mood. There are even seasonal games out like Xmas Treats and Christmas memory. Finding your game of choice is simple under the "Game Categories" tab. Pick from action, puzzle, strategy, shooter and sports. Not sure what you're in the mood for? Checking out the "Most Popular" or "Newest" module are great places to start.
MindJolt tracks your scores for each game and tallies these against your friends and all MindJolt players. Below each game, you can also see a running all-time total or a weekly score. We interviewed MindJolt Games' creator and CEO, Richard Fields about the application's creation and future plans. Check out his answers after the jump.
Where did the idea for MindJolt Games come from?
The idea actually came to me after spending too many hours trying to beat my friends' scores on a few random Flash games. It was fun playing the games, but we had to rely on each other to send an email saying what our newest high score was. Automating the process, and building upon existing established relationships on the social networks, seemed a natural progression.
After launching, we knew we had a hit when we found ourselves even more addicted to playing the games on our own application than we did before we launched!
What is your favorite aspect of the application?
I love the fact that players from all over the world can compete with their friends (or total strangers) for high scores in hundreds of games, all without having to leave their favorite social network. This provides
a seamless experience for the user, and makes playing on MindJolt part of their daily social networking routine.
This leads to users coming back day after day to play games, and compete with their friends. Social networks that have the MindJolt Games application instantly see increased engagement among their users, and of course, additional page views!
What's been the most surprising thing you've encountered?
I think that I underestimated the intensity in which friends would actually compete with each other. I knew that the competition would appeal to groups of friends, but I am still amazed at just how hard-core
casual gamers of all ages could become when trying to regain that top spot from their friends in their favorite games.
Any advice for aspiring OpenSocial developers?
Modular code becomes more important than ever when developing OpenSocial applications. Each OpenSocial implementation still has its unique traits, and often can have slightly different functionality to implement (or best practice guidelines to follow).
Building each piece of functionality in a modular way (whether it's for posting activity feeds, sending notifications, or managing profile settings), can allow you to plug-in whatever is appropriate for each OpenSocial container. And, if you maintain configuration settings for each module, you can easily tweak what happens for each piece of functionality on each container … without having to hack your code apart
each time a social network changes its business rules, or adds new functionality.
How do you see MindJolt Games growing or expanding in the future?
Our no. 1 goal is to make our application as fun and engaging as possible. We are in the process of rolling out new features that will make playing games more exciting, and we are adding new ways to show off your game-playing success! And, of course, we are continuing to add new games each day.
Tell us more about yourself!
Richard Fields is the founder and CEO of MindJolt Games. MindJolt is the largest gaming portal on all of the major social networks, and provides hundreds of games to players on Ning, Facebook, MySpace and others, as well as on mindjolt.com. Richard has also founded and built several successful e-commerce companies, outside of the gaming space.
About OpenSocial: An OpenSocial application is a feature that you can add to your profile page for fun, communication or business. Add it to your page by clicking the "Add Applications" link in the left hand column, beneath your profile photo. This will take you to the application's directory, where you can scroll through the list of available applications or use the search box to jump to a specific one. Then click on the "Add to My Page" button and and confirm by clicking "Add Application".