G1 phone fans turn to networking
Ning Network Spotlight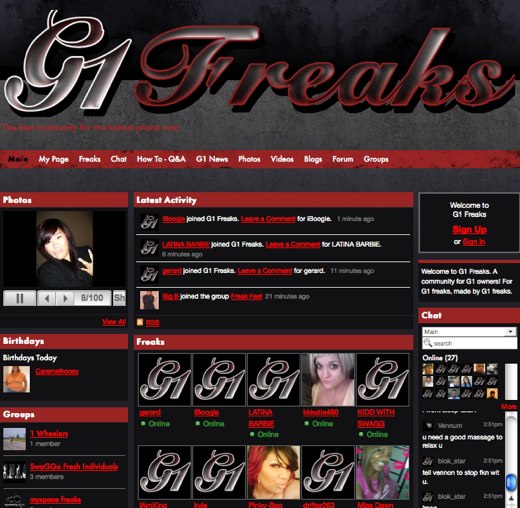 The iPhone and Blackberry Storm aren't the only fancy phones in town. Last month saw the arrival of the G1, the Google Android phone that offers its own applications. The social network for G1 lovers is G1 Freaks.
With more than 1,800 members, G1 Freaks is very active. During the day, it's commonplace to see dozens of members using the network's Chat feature to chat about anything from which operating system works best with the G1 to where to buy the G1.
The forum on the G1 Freaks network has been turned into a Q&A on the G1, where owners can help each other get the most out of their phones. For those who want to take the fast-track when talking to T-Mobile, the forum is a great asset for learning tips and tricks. In the photos section, there's a great set of featured photos that all have the phrase "G1 Freak" somewhere on the image.
The network has also purchased the Premium Service "Use Your Own Domain Name" to give the network an extra level of branding. That way, members need only head to g1freaks.com to visit the network.
For those who love their G1, head over to the G1 Freaks social network.