Get Amongst It at the coolest spots in New Zealand
Ning Network Spotlight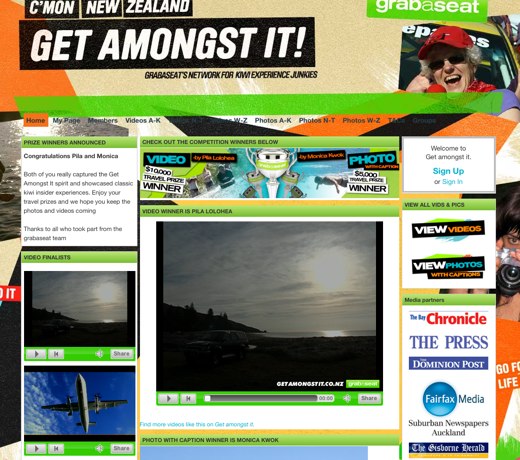 I just wrote a few days ago about the Kiwi Pulse network, which focuses on the New Zealand social scene. Now, I bring you the Get Amongst It network, bringing you the coolest and most extreme experiences in the New Zealand outdoors! From the sweet header image to the rocking array of videos, Get Amongst It hooks you immediately.
Get Amongst It knows exactly what it's about — photos and videos of the hottest outdoor spots in the country! There's so much content that the Network Creator has cleverly broken it down into three alphabetical tabs each for photos and videos, with subtabs for individual cities! It sure does make it easy to plan what to see on a trip. No forum, no events, no music — but who needs it when you've got video of surfing with whales?
Simple, but beautiful.
It's no surprise that a network so full of awesome media has more than 2,600 members. Of course, Get Amongst It rewarded members for the top content, with a $5,000 travel prize for best photo and $10,000 prize for best video recently awarded, but I'll be darned if the cost wasn't worth it.
Get Amongst It has me planning my next vacation, and it's the network to study if you're looking to create a travel or outdoors network!