Bring celebrities to their fans with social networking
People Profiles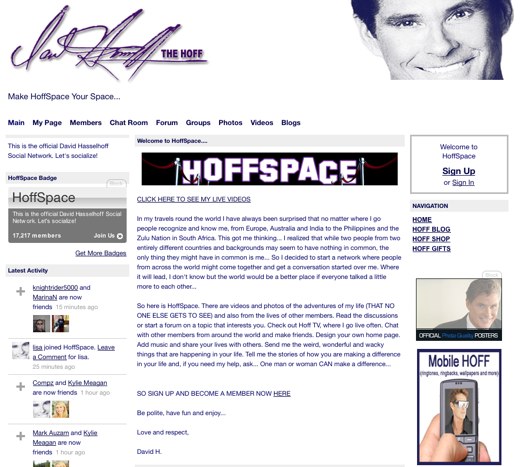 David Hasselhoff is a TV star with an action packed network on Ning, HoffSpace!
Network Creator Robin Smith and Creative Director Joe Townley, from Iconduit, talked with us about what it's like to manage a social network of this scale!
Please tell me about your network. What was the idea that jump-started your network?
Joe: David Hasselhoff is the biggest TV star in the world (and by the way, that's official in the Guinness Book of World Records!) and he's known all over the world. I was standing on the Eiffel Tower with David and was astounded by the diverse number of nationalities of people that recognized him. We decided a network on Ning was the best way to connect all these fans. They love it and David loves the fact that he has a two-way relationship and a dialogue with his fans, rather than just telling them all the time what he's doing. They get to send in their photos, videos, blogs, etc.
How do you manage such a huge number of members?
The trick is regular maintenance. We're constantly on the network. That way, the number of approvals, emails, etc. is never overwhelming and we can easily respond to everything that's happening on the network.
Do you have any secrets up your sleeve to help you maintain the network?
Robin: I think the secret to a great network with lots of people is making sure that your content is updated with as much consistency as you can manage. That allows for smaller bits of information on a more regular basis, which keeps everything fresh and accessible and keeps people coming back. Nobody wants to have to read through 57 blog posts that were done in a single day; that would be ridiculous and I think the users would get tired of it pretty quickly.
Joe: It's also important to us that we have great relationships with our members. They are fantastic at reporting problems and giving us suggestions. I would definitely recommend that anyone starting a network works really closely with their members. Ultimately, we're doing it for them and they respond to the idea of collaboration.
Where did the inspiration for the look and feel for your network come from?
We wanted something very simple, which minimized the amount of graphics as many of our international members do not have access to high-speed Internet access like we have.
What do you feel is the most difficult thing when managing a network?
Striking a reasonable balance between being accessible to your members and being overwhelmed by their requests. We try to keep as many people happy as possible, but the more requests we comply with, the more requests we seem to get. Everyone wants something from David and sometimes it's hard to turn people down. David couldn't physically respond to every request because there's simply not enough time in the day.
Does David Hasselhoff hang out on the network personally and talk to members?
David does indeed hang out and talk to the members. Not as much as they or he would like, but he does chats (both live and regular) when his schedule will allow.
Do any of your members know each other in the "real world?"
Some of our members know each other very well! Some have known each other for years through things like organizing Knight Rider conventions, while others have become great friends through the social network.  We think it's great that we can help people connect through a common interest.
What about being a successful Network Creator surprised you the most?
The overwhelmingly positive response we've had from all around the world. When people started to send in photos of them from different places around the world, we created Hoff Around the World, in which members send in pictures of themselves either holding a sign that says "Hoff Around the World," or wearing a Hasselhoff t-shirt. So far we've had entries from every single continent (apart from Antarctica of course).  One English guy remembered to take his T-shirt to China so he could send in an entry from the Great Wall!
What features do you use on your network most prominently and how do those drive your network?
Blogs, photos, videos are all easy to update and make sure that our network is totally unique. We have exclusive videos of David doing everything; from swimming with sharks, to making a wish in a Buddhist temple, to singing on a Parisian street.  We let the content drive the network and we ask people to submit videos, photos and stories from their lives in the same way that David does, which really helps make it a true community.
Do you manage any other networks?
Yes! Cafe Belle Gray, which is Lisa Rinna's new Ning network just launched on Dec. 9.  We're hoping for an excellent response there, too.
What advice would you give someone who wants to create a network?
As mentioned earlier, connect with your members and have a really strong, guiding voice to the network.