Hot Video
Ning Apps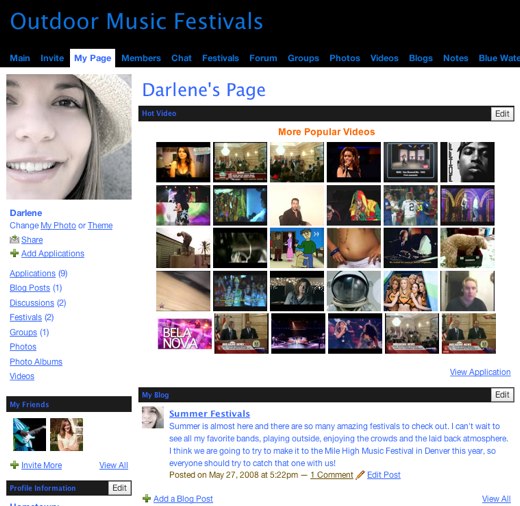 Showing off your favorite videos is made easy with "Hot Video." You can view, share and search all of your videos in one spot on your profile page once you add Hot Video to any of Your Social Networks on Ning.
Search through a list of popular videos and, in one click, post them on your page. See a video another member would enjoy? Next to each video is a notification feature so you can send these suggestions to your friends.
Hot Video developers also created the application to be used in China and Japan (Hot Video China and Hot Video Japan). I recently interviewed them about the creation of these OpenSocial applications. Check out the interview after the break to learn more!
How would you describe Hot Video in a nutshell?
Hot Video is the application which recommends and shares popular videos everyday based on our ranking system. Also, we have two similar applications: Hot Video China and Hot Video Japan.
What is your favorite aspect of the application?
Sharing videos by sending them to friends.
What's been the most surprising thing you've encountered?
System Caching. The OpenSocial system has a beautiful caching system.
What would you say to someone who wants to create an application?
Creating an application is not hard work, but you must look at the policy and restrictions carefully. Here is application-creating process I recommend:
1. Study basic functions of OpenSocial and exercise.
2. Look at the policy and restrictions carefully.
3. Look into the other similar applications you want to make.
4. Try to find trends and know what you can and can't do.
What plans do you have for Hot Video China's future?
A few features will be added in the future such as Related videos, My favorite videos, and so on.
About OpenSocial: An OpenSocial application is a feature that you can add to your profile page for fun, communication or business. Add it to your page by clicking the "Add Applications" link in the left hand column, beneath your profile photo. This will take you to the application's directory, where you can scroll through the list of available applications or use the search box to jump to a specific one. Then click on the "Add to My Page" button and and confirm by clicking "Add Application".