Find your home at Displaced Fanbase
Ning Network Spotlight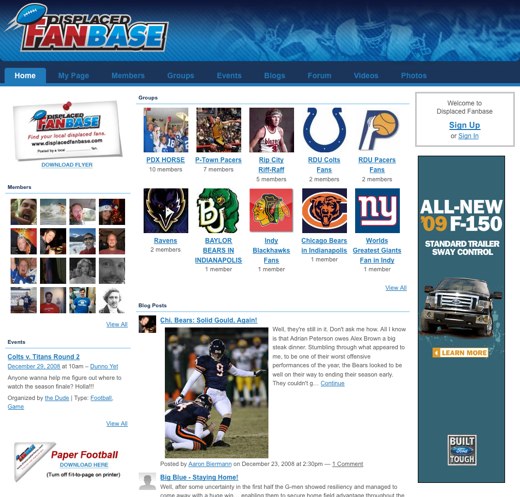 One of the hardest things about growing up and leaving your hometown — after leaving your family — is saying goodbye to your hometown sports team. Whether it's the Baltimore Ravens football team or the Chicago Blackhawks hockey team, the ties that bind you to your hometown sports team don't disappear after you move.
These days, with the advent of sports news on the Internet and satelitte television, it's become easier than ever to stay loyal to your hometown sports team, even after you move. Now, it's become even easier, with the creation of the Displaced Fanbase network.
Displaced Fanbase members understand what it's like to move to a new city and be the only one cheering for your old team. They're here for you, and they're just as into their old teams as ever. They're also eager to share their own sports experiences.
Displaced Fanbase has a photo of a member taking his two-week-old son to the Super Bowl, complete with a jersey, and members have shared several videos of their happy gatherings to watch games. You'll be hard-pressed to find a group of Indianapolis Colts fans as intense as Displaced Fanbase's Portland group.
For a network 10 days old on Christmas Day, Displaced Fanbase is taking off very well. You can join groups for Baylor Bears fans in Indianapolis, Colts fans in the Raleigh-Durham area, and more. It's great to see that you're not alone when you hoist a mug for your team, and as the network grows, you'll surely be able to find others in your area to toast with.