Add spice to your relationship at Married Life
Ning Network Spotlight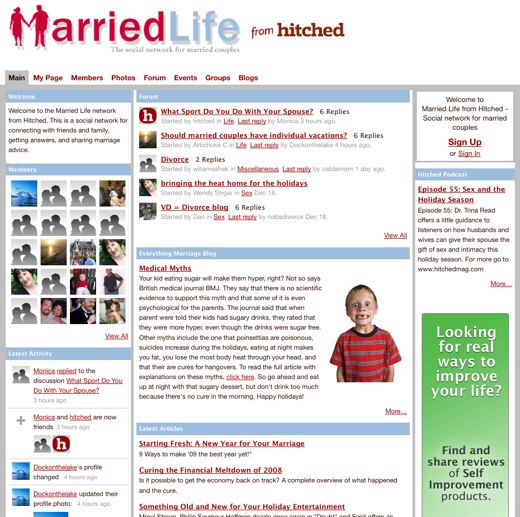 Hitched Media brings you Married Life, and the network is ready to take you through the ups and downs of life with your husband or wife.
Members are eager to show off their spouses and children, and the photo gallery is full of cute baby shots and happy families. It's a good message of success and encouragement for couples visiting to find stability and love. More recently, members have been sharing photos of their Christmas trees, and it's still nice to see some good decoration even with January coming.
On the other hand, the blog is a lot spicier. Married Life is a husband-and-wife network and not a family network at its core, with sex facts and commentary on the recent appearance of sex therapist Laura Berman on Oprah. It's risqué, but the message centers nicely on the importance of communication and sensible expectations. It's good material both for new couples getting used to each other and old ones looking to keep the flame burning.
Married Life offers a chance to share the highlights and joys of married life with its photos and discussions, and adds a layer of thoughtful advice and analysis to help keep married couples together and interested in each other. Visit, read up, and add new life to your relationship.