Indy comic creators unite at Incoming!
Ning Network Spotlight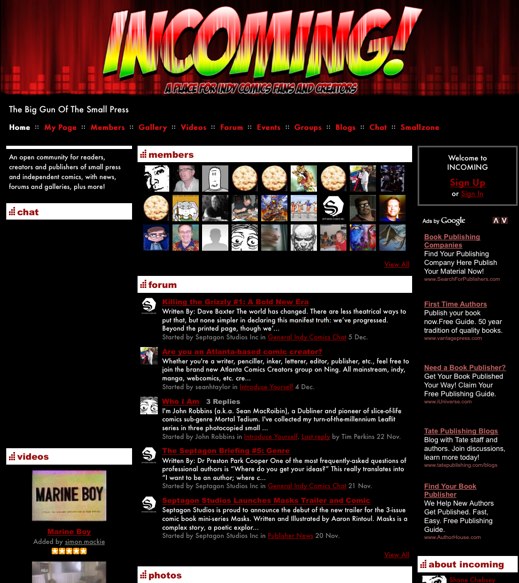 You've surely heard of Superman, Spiderman and Dilbert, but the Incoming! network for indy comic creators will introduce you to many more wonderful characters.
As you'd expect, Incoming! is full of great comics from its members. They've retitled the Photos tab "Gallery" to better suit the network's theme, and it's full of stellar member content. Incoming! is a solid example of what makes Ning great for arts networks: It's easy to share content and get feedback through comments, and every addition will motivate even more growth.
Even the blog centers around access to the members' visual content, which not only makes sense for a network of comic artists, but also encourages more activity. It's easy to spend a lot of time on a network browsing through graphic works in progress with some commentary added, and little will earn more clicks than a good picture.
Incoming! is still growing, but it's well set up to attract more members. An open gallery to post work, gather opinions, and learn from others is a simple and fun way to lure in plenty of talented artists and build a body of content to encourage visitors to join.