A Social Network Befitting a Ms. U.S.A
Ning Network Spotlight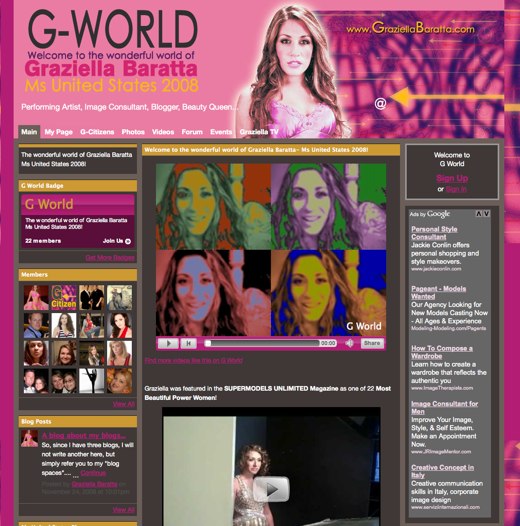 What does the reigning Ms. United States do after accepting her tiara? Create a social network, of course!  Graziella Baratta was crowned Ms. United States in July of this year, and her social network is appropriately called Graziella World.
Graziella's members, or G-Citizens, can participate in the network's forums or post events, but the real focus of the network is on Ms. Baratta herself. Knowing that videos are the most popular feature on a social network, she's posted two great clips on the top of her Main page. The first is a general introduction and the second shows her supermodel life. As you can tell here, posting videos prominently is a simple way to engage first time visitors to your social network.
It's bright, it's flashy and it's extra-girly. Could it be anything but a network for the reigning Ms. United States? Step inside Graziella's glamorous world and join today.