Keeping resort skiers connected, and coming back
Ning Network Spotlight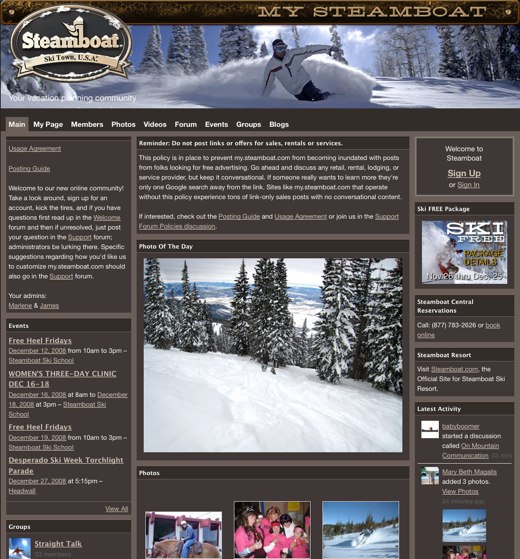 There are few better ideas for a vacation in wintry December than a ski trip, and if the Steamboat resort in Colorado sounds like a good destination, the official Steamboat network will be happy to help you plan your trip.
Steamboat's network is a great example of how to integrate a business — a resort, in this case — and a social network. The network has purchased the Premium Service "Control the Ads," not to run their own advertisements, but to better concentrate on the network's focus: Showing off the awesome skiing Steamboat has to offer.
If you are running a business and have started a social network, one of the best ways to start getting traffic to your network is to start promoting your network on your business' Web site. Steamboat has done just that, adding a link to their social network at the very top of Steamboat.com, the resort's Web site. That helps drives traffic to the network and gives it a constant source of new visitors. In addition, they've used the premium service "Use Your Own Domain," so that the network now has the address of my.Steamboat.com, perfectly integrating visits to the network with visits to the resort's site.
Of course, nothing helps show off the snow more than the Photos section, which is loaded with cool shots of the mountain and skiiers in action, and the Videos section does the same. Steamboat's plan is to overwhelm you with how awesome skiing (and snowboarding) at their resort looks, and it's successful. The multimedia even helps to build a stronger connection between Steamboat's best customers, as the network's members can — and have — started to upload videos and photos showing off their trips to the mountain.
One member, Kirby Sutherland, used the network to show off great clips of him doing jumps, grinding and downhill skiing during his spring break trip to Steamboat. By uploading the video to Steamboat's network, he's not only building connections with fellow Steamboat skiiers, but encouraging his friends to visit the mountain resort when they go online to the network — instead of Facebook or Youtube — to watch the video.
Steamboat is a great example of creating a network for a business, on Ning. Check them out, and you might just find yourself booking a flight to Colorado.