Learn about life in Dubai at Dubai Spectrum
Ning Network Spotlight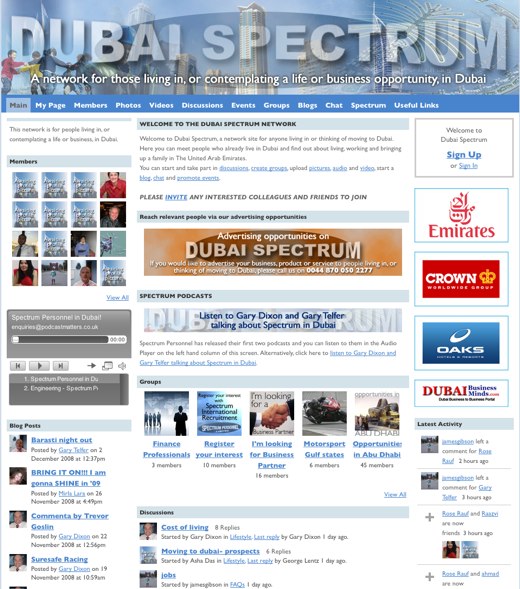 If the December cold has got you down, and you're thinking of warmer places, the Dubai Spectrum network will gladly inform you about living in Dubai, particularly if you're interested in a long-term move! Listen in on the Main page podcasts in the cleverly renamed Music player (now called "Audio") and see if it sounds like the place for you.
Dubai Spectrum will help you find a niche in your new home whether you're into motorsports or finance. The conveniently placed welcome message gets you involved immediately with links to the network's feature pages for after you've signed up, so you can read up on the cost of living and get help job hunting and start making plans.
The creators of Dubai Spectrum have also taken the time to post details at the bottom of the Main page on how to post a profile picture and how to contact them for help. Network Creators should take note — your network will feel much more welcoming if you show that you care. It'll make your members more helpful, too; Dubai Spectrum members post in chat offering support to each other from around the world!
Helpfulness is the prevailing attitude for the whole network. It shows everywhere, from staff members' chat presence  to the convenient instructional notices to the honest assessment of Dubai's ups and downs. So drop by Dubai Spectrum and consider the move of a lifetime. You won't find a more welcoming crowd when you step off the plane.