Learn the beauty of hair at Caribbean Natural Hair Scene
Ning Network Spotlight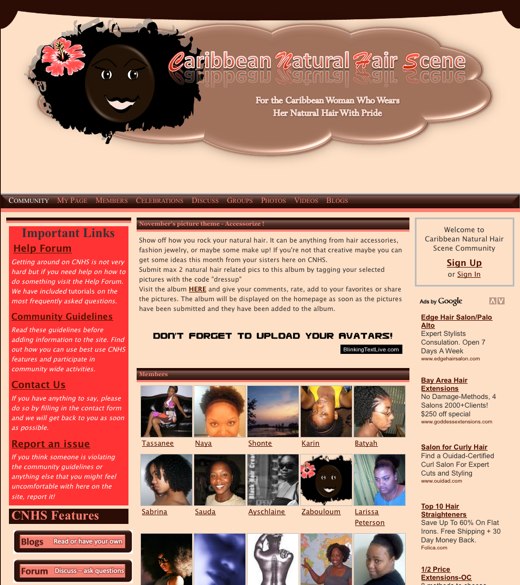 The Caribbean Natural Hair Scene is about natural Caribbean hair, plain and simple, and the whole network oozes with custom style.
If you've been looking for ideas for HTML design to test out your capabilities, look no farther than the awesome Important Links and Features text box, which even features special button images. This text box fulfills two important purposes in the network's design: It makes getting started and accessing features extra easy for new members, and it says convincingly "This network is well done and worth your time."
The whole rest of the front page is one cool image and splash of color after another, all the way down to the bottom, so it's easy to keep reading. Even the tabs have been modified with the langauge editor so that "Events" is now "Celebrations," which makes participating sound much more fun! Oh, and subtabs are integrated brilliantly too: you can use Members subtabs to search directly for students, moms, and other member categories to easily find friends.
The Caribbean Natural Hair Scene clearly shows that its creators care and that they're willing to go the extra mile to make a really incredible network, and if you're looking to expand your own network, you should definitely consider some of its stylistic innovations!