Learn the meaning of a tattooed life at Inked Inc
Ning Network Spotlight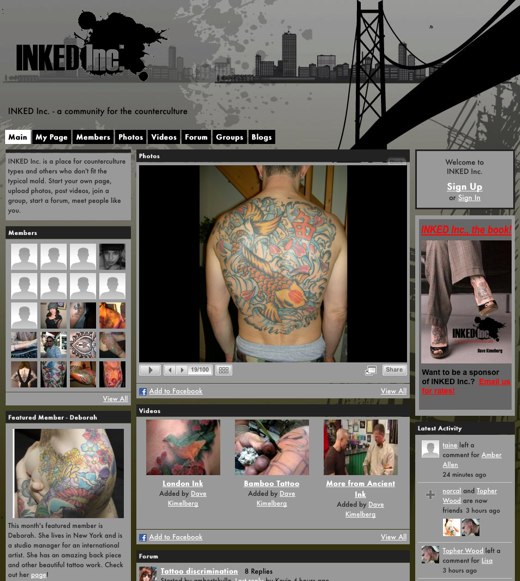 Inked Inc is the hottest network on Ning to find the counterculture scene, especially for seeing and sharing some truly impressive tattoos.
Inked Inc shows you immediately just how cool its members are with a full slideshow and, right up top, a featured member with more than 50 hours worth of tattoo work. The videos are equally amazing, and include some footage of tattoo work actually being done and video of the Manila Tattoo Convention. You could spend hours going through the thousands of photos alone.
It's also a great place to find serious discussion of what it means to live with tattoos. You'll find a forum thread about members' first publicly visible tattoos and how it affected how they were treated, and another about discrimination against those with tattoos. It's a lot to think about, and it's particularly great reading if you're thinking about going under the needle soon. This kind of active discussion is also what will keep members returning to a flashy network after they've looked at all the pictures.
Inked Inc is an excellent example of taking a relatively simple concept and adding depth to make a wonderful network. As a photo collection, Inked Inc would be stylish, but it's even stronger as a place where members can also frankly and openly discuss the tattooed lifestyle.