Meet and learn with fellow EMS staffers at JEMS Connect
Ning Network Spotlight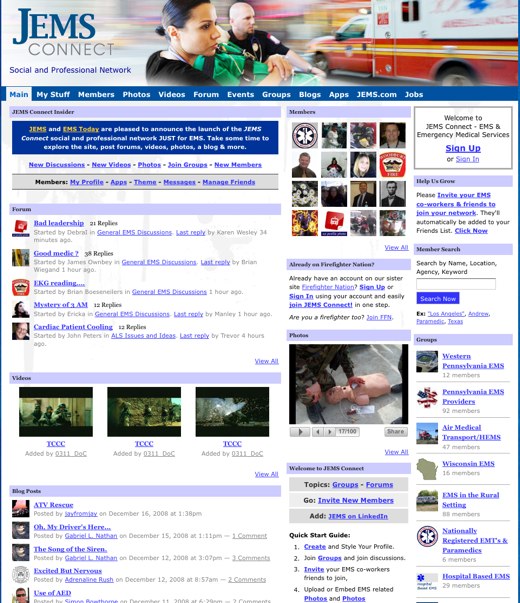 The creator of the successful network Firefighter Nation has launched a new endeavor: JEMS Connect. JEMS Connect was built for emergency medical service staffers to learn, discuss techniques, and share stories and thoughts on the profession, and after less than three weeks of existence, it's already doing a great job.
JEMS Connect delivers plenty of content for serious EMS personnel to learn from. You'll find many useful videos, like footage of the finals of the 2007 JEMS games competition and some actual medical techniques explained to learn from. If you prefer to read, there's serious medical work here, like this discussion of tourniquets and their utility. JEMS understands that medical staffers take their work seriously, and makes a point of sharing information that could save lives.
Of course, hilarious content abounds, too. Check out this list about paramedics and this "warning" about what E.M.T.s may do for you. That's just part of other half of JEMS Connect: Letting members share the stresses and joys of their profession.
This blog post goes into the gritty realities of working for a transport squad, and another discusses some unfortunate statistics on EMS helicopter crashes. On the brighter end, there's a huge thread in the forum with stories of crazy EMS calls that'll keep you reading and laughing for quite a while.
JEMS Connect is already an awesome network and isn't far from 3,000 members. If you or a loved one work in emergency medical services, you should definitely pay a visit. You may learn something that you'll use on the job soon, and you'll definitely find stories that you'll think hard about and laugh at.