A closer look at what makes VegHaven.org tick
Ning Network Spotlight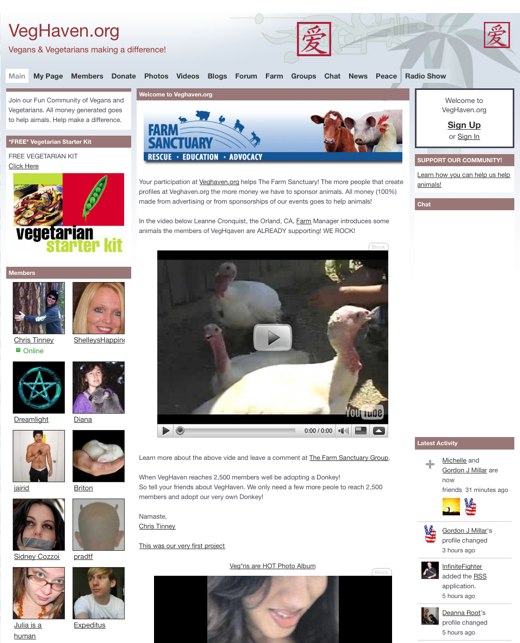 I don't doubt that more than a few of you didn't eat Turkey this Thanksgiving, because you simply don't eat meat! The network VegHaven.org is full of people like you, and it's a great example of a network designed to make a point.
We've already written about VegHaven twice, once to show off its great content and once to interview the network creator. Now we'd like to take you through a closer look at its design and exactly why it's so good at promoting vegetarianism and organizing donations and involvement.
VegHaven effectively uses visual media and a terrific main page layout to sell vegetarianism as a concept. The front page kicks off with a video introduction to a Farm Sanctuary for rescued farm animals and a photo album called "Veg*ns are HOT," so it's easy to get a quick picture of the fuzzy friends you're not eating and their attractive fans
Then, once the network's got you hooked, you notice the nice photo link to a Vegetarian Starter Kit, and off you go. Tasteful, or should I say, tasty! VegHaven also does a great job of using its Tab Manager to full effect, with lots of extra Page links that make it easy to donate money to adopt animals and visit a critical group about the animals supported by the network. It's a complete package — VegHaven gives you the concept, teaches you how to get involved, and makes it easy to contribute!
If VegHaven.org can make even a dedicated bacon lover like me think twice about picking up a steak knife, you know it's doing something right. Stop by, check out its wonderfully accessible presentation, and take notes for your own network design!