Meet your fellow Kiwis at Kiwi Pulse
Ning Network Spotlight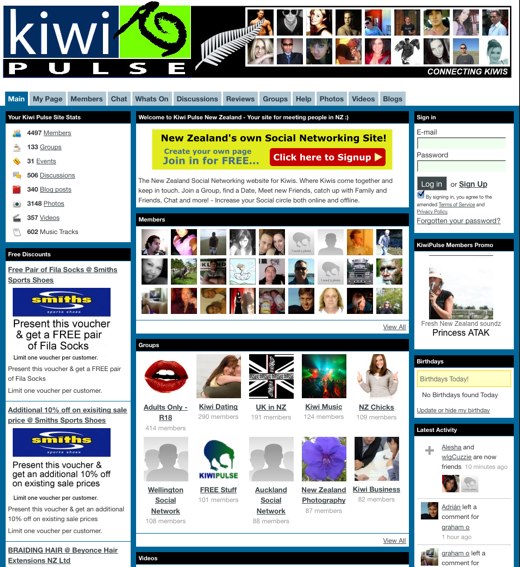 The Kiwi Pulse network is out to prove that Kiwis — another term for New Zealanders — aren't an endangered species like the birds are! With just shy of 4,500 members, Kiwi Pulse is right on top of the New Zealand social scene.
All it takes is a glance to find out just how much cool content can be found on Kiwi Pulse: They've got an awesome front page widget called "Your Kiwi Pulse Site Stats" that lists how many members, groups, events, and so forth are currently on the site. Kiwi Pulse also takes advantage of a trick I've been pointing out in several networks lately. It offers a clear, upfront banner with a sign up link in addition to the right side sign in area.
In addition to the terrific Main page, Kiwi Pulse does something else really brilliant. It has a "Help" tab for members new and old, with links to pages with the network's terms of service and a complete custom guide to using the network. I've showcased similar functionality in Main page widgets on other networks, but making this into a tab is a great way to offer a more thorough guide while not being so obtrusive. Pure genius design.
So, whle you're checking out the lovely album of Kiwi Gals, being amazed by base jumping videos, and reading a heated discussion about why women prefer bad boys, step back a moment and admire the inspired decisions of the network creation team. Kiwi Pulse shows that you don't have to live in Silicon Valley to get the Web right.