Connect through the magic of the movies
Ning Network Spotlight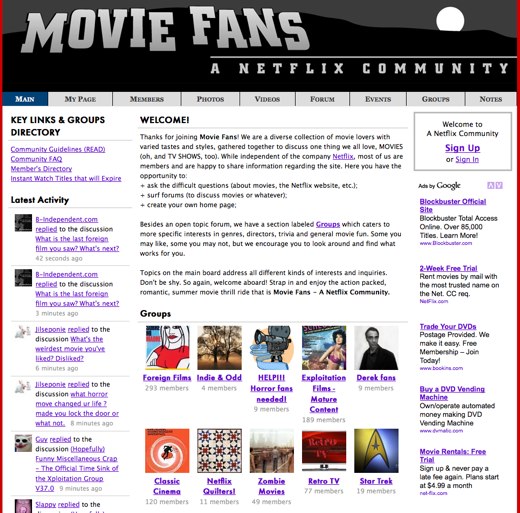 Movie Fans is a network for movie lovers to connect, talk about and recommend movies. If you love foreign films, zombie movies, film noir, medieval movies or simply want to know what's next on Blue-Ray, this network has got it!
Movie Fans is a great example of a network that has successfully distributed network management to the network members!
Network Creator and former Netflix employee, droidmaker, needed a little help managing Movie Fans. With more than 6,500 members, he called in reinforcements to keep the network in check. "The key is to distribute labor," he said. With the help of 23 Netflix Ninjas, a group of active members that help droidmaker manage the network, the network runs smoothly, at least on the surface.
"The Netflix Ninjas do not agree with each other," droidmaker said with a laugh. "They usually fight."
When decisions or compromises can't be met among the Ninjas, droidmaker steps in. "I make sure they all feel heard but then I make a decision. I can't run the network without the Ninjas."
Check out the great discussions and get advice about what next to put in your Netflix queue from this well managed network, Movie Fans!