Orange County moms move online
Ning Network Spotlight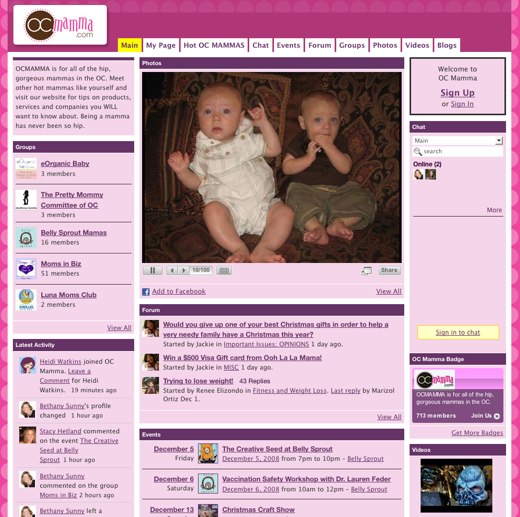 Are you a mom living in Orange County, Calif.? OC Mamma.com's network will help you meet new friends, find great deals and be hipper than ever. For for those non-OC moms reading this — now you know where the OC Mammas get their style!
OC Mamma is a one-stop shop. There's an obligatory baby picture slideshow to grin at, an upcoming Christmas craft show to attend, a detailed guide to five-minute makeup and much, much more. OC Mamma made a design decision to go for a simple pink layout without much flash, and this makes the vast array of content very accessible. You don't have to hunt to find blog posts to read!
There's also plenty of opportunity to get actively involved. OC Mamma's forum page makes a point of keeping solicitations out and welcoming serious discussion and there's a great group for Moms in Biz. Again, the key is simplicity: there's no pretension, just honest welcoming sentiment and a whole bunch of support. OC Momma plays the game without much complication, but with plenty of skill, and it's a wonderful way to run a network!