Share your love for music with Palco Principal
Ning Apps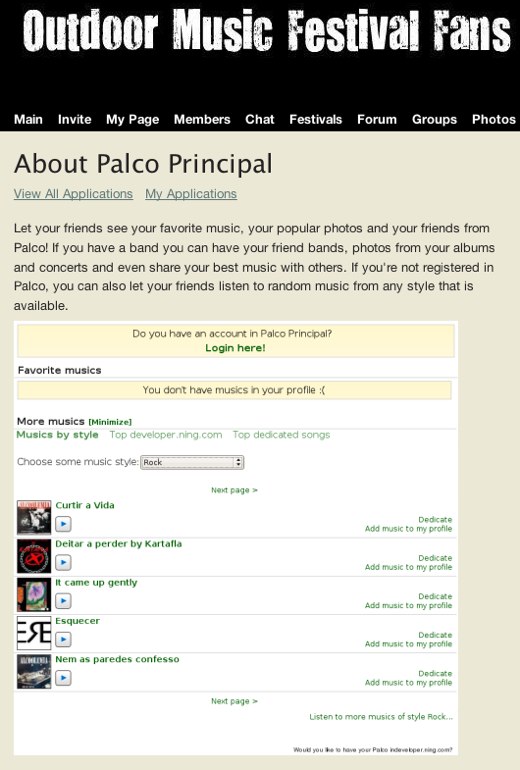 Show off your favorite songs and bands with Palco Principal! This OpenSocial application can be added to your profile page on any of Your Social Networks on Ning.
From here, you can add songs to your profile page and group them by music style for you and your friends to enjoy. Palco Principal is a great way to find and add new, independent musicians. See a song your friend would like? Try out the "Dedicate" feature! If you have your own band, you can promote your new music, add photos and gain visibility across thousands of networks.
To find out more, check out our interview with Palco Principal's developer, Daniel Botelho, after the jump!
How would you describe Palco Principal in a nutshell?
Palco Principal is a place where musicians, bands and musical projects in general can be promoted and where the users can hear and download new songs. These are usually outside of the mainstream circuits, paying special attention to the specific contents of creators and producers. At this moment, Palco Principal has one objective: to be present in every countries where Portuguese is the mother language — Portugal, Brazil, Angola, Cape Verde and Mozambique.
Where did you get the idea for Palco Principal?
Palco Principal is an evolution of an old project developed in college in 2000. At the time, there weren't many online services for bands, and Palco Principal was an opportunity to start an interaction with independent artist markets. At the end of 2006, with the support of two business angels, the project became professional, with a business management.
What is your favorite aspect of the application?
With this application, musicians can share their profiles in other networks, allowing other users to see their projects and interact with them. The ability to dedicate songs to other users is a great tool to show music to your friends.
Do you have any advice for Palco Principal users?
By installing the Palco Principal's application, users can add songs from their favorite artists to their profiles and share their own photos and friends. For the bands, it's a great tool for spreading even more of their work and attracting fans.
Tell us more about yourself and where you are from.
The project was established in Portugal only by Portuguese and is fully developed with our own technology. The company maintains relations with major academic centers to ensure permanent technological innovation. We also collaborate with other technology companies to improve the development rhythm. Promoting and believing in the power of collective intelligence, we try to evaluate patterns of behavior and preferences, trying to produce better recommendations. We have a large project going on with some of the most important research centers and Portuguese universities, which will try to launch some new solutions in the market — it's code name is Placo 3.0.
About OpenSocial: An OpenSocial application is a feature that you can add to your profile page for fun, communication or business. Add it to your page by clicking the "Add Applications" link in the left hand column, beneath your profile photo. This will take you to the applications directory, where you can scroll through the list of available applications or use the search box to jump to a specific one. Then click on the "Add to My Page" button and and confirm by clicking "Add Application".