Poker Texas Holdem
Ning Apps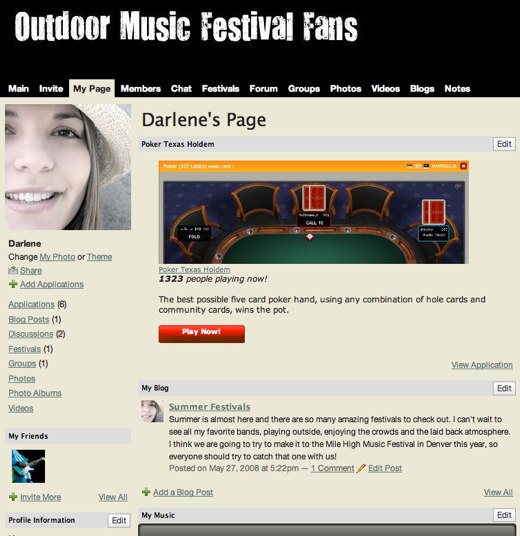 Calling all poker players! Bring your favorite card game to Your Social Network on Ning with Poker Texas Holdem.
Once you add this OpenSocial application to your profile page, you can start playing within minutes. You are given 5,000 chips just by joining and can earn more by playing and joining the VIP club. You can pick your own table, including specialty tables, or let the "Find me a Seat" feature do it for you!
Meeting fellow players online has never been easier. You can chat with opponents throughout the game and use the "Friends" module that is built in to the game. I recently had the pleasure of interviewing Poker Texas Holdem's developer, Wojtek Wylon. Read his answers after the jump!
Where did the idea for Texas Holdem very come from?
Poker is one of the most popular card games in the world, especially in its Texas Holdem variation. Its success is probably based on an interesting combination of skills and random factors. It doesn't take much
time to learn basic poker rules and even beginners can enjoy the game. Poker players say it takes "five minutes to learn and a whole life to master." That is why it never gets boring. Our players use game chips which gives them an additional motivation to play and win.
What is your favorite aspect of the application?
The application is extremely social: There is a "friends" module built into game, you can chat with people when playing and easily invite others. We can also create special tables dedicated to communities, such as a network on Ning. There is no need to download and install anything — the game is played in a browser. The majority of functions are available directly from the application which means the users don't spend time on clicking through the Web site. In addition, users don't need to ready many instructions text or click through a lot of set-up screens.
The "Find me a Seat" tool is a great example of application's utility. This feature examines a member's profile, finds them a suitable place and seats them at the appropriate table
What's been the most surprising thing you've encountered?
The most surprising thing was the fact that Ning OpenSocial has worked smoothly from the beginning. Judging by my experience, I must say that in the case of other platforms, it can take a few weeks because the application runs completely as it should. With Ning's implementation of OpenSocial, we didn't encounter any difficulties. We were also positively surprised by the support that we received from members of social networks on Ning. Their feedback was really useful.
Any advice for aspiring OpenSocial developers?
First of all, when designing an application for OpenSocial, it is worth it to make it as universal as possible. The applications should satisfy the needs of different users and also meet OpenSocial requirements. Only
then can they be successful on different Web sites that support OpenSocial.
How do you see Texas Holdem growing or expanding in the future?
We plan to make it even simpler for users and easy to embed to other Web sites. We will also add some gadgets like bonuses or gifts with GameChips to the app. In the near future, next to Texas Holdem, we will
launch several other multiplayer games: A word game similar to Scrabble, pool, bingo and some more card games.
Tell us more about yourself!
I am a programmer and games developer. It's not only a job but also my passion. I am from Poland, and I live in Krakow with my family. I enjoy social networks and meeting virtual friends.
About OpenSocial: An OpenSocial application is a feature that you can add to your profile page for fun, communication or business. Add it to your page by clicking the "Add Applications" link in the left hand column, beneath your profile photo. This will take you to the applications directory, where you can scroll through the list of available applications or use the search box to jump to a specific one. Then click on the "Add to My Page" button and and confirm by clicking "Add Application".