PubGigs.com is your insider guide to live UK music
Ning Network Spotlight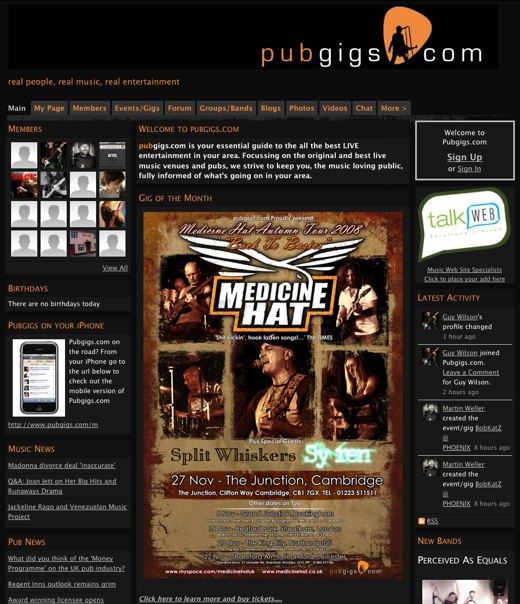 The PubGigs.com network was created to match musicians with listeners. It'll keep you on top of all of the hottest shows across Britain, and let you know where they're being played so you can sign up your own act for the next free night.
PubGigs.com is about live music, and so special attention is paid to the human side of the business. Many of the top local acts have groups and send out concert invites themselves on the network. In the forum, you can see members reacting to roster changes on a personal level rather than as upset or enthused fans, and it's clear from the gig postings that your rep as a player will be known and kept track of. PubGigs.com has helped make an intimate scene out of UK club music, and that's ultimately more rewarding for everyone.
There's a lot of actual music to see, too. PubGigs.com has more than 70 upcoming concerts listed as far out as April, so you'll never run short of gigs to visit. There's also a ton of media focusing largely on local acts, keeping up the intimacy. Photos of local acts rocking out and videos of live shows will quickly familiarize you with the band members you're talking with in the forum.
PubGigs.com does a great job of bringing a music scene that spans the country into a single, accessible place for musicians and listeners to share mutual appreciation and news — right from their home computer. You'll be hard pressed to find a more thorough listing of ways to spend your coming nights, or a tighter group of bands and fans.