Put your feet up at Pet Lovers Paradise
Ning Network Spotlight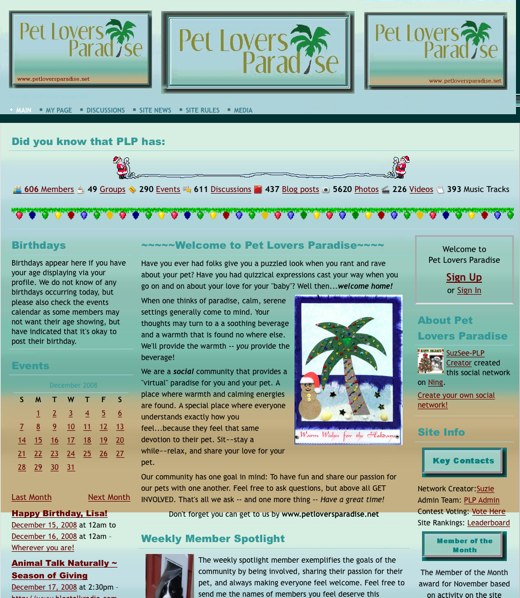 Pet Lovers Paradise is all about sharing your love for animals. To quote the Main page of the Pet Lovers Paradise network, "Have you had quizzical expressions cast your way when you go on and on about your love for your 'baby'? Well then… welcome home!"
On Pet Lovers Paradise, the 600+ members of the network have added over 5,600 photos of cute animals like kittens hanging from clotheslines, a cat taking up dignified residence in a drink case, and the most curious Maltese you'll ever see. Videos aren't forgotten either, and they tend as much towards the hilarious as cute.
Network Creator Suzie has taken advantage of the Control the Ads premium service, which allows networks to remove the ads from the right column and run their own ads if they like. She has repurposed this space for a Weekly Member Spotlight and a Member of the Month.
Suzie has put together an extremely welcoming network that's ready to reward and motivate contributing members.  Visit, coo, and meet people like you.