Re-create yourself with Karooba Avatar Studio
Ning Apps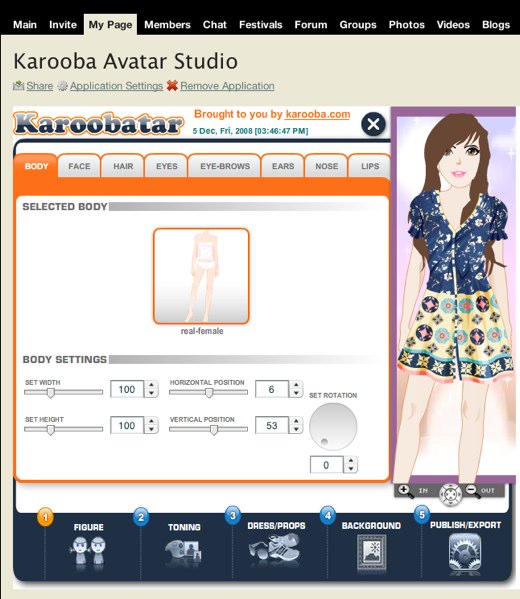 With Karooba Avatar Studio, you can create and customize every detail of your personal avatar from the color of your hair to the width of your facial features. Whether you want to make your look realistic or cartoonish, serious or funny, the options for your avatar are endless.
Once you add this OpenSocial application to your profile page on Your Social Network on Ning, five simple steps let you pick your figure, tone, wardrobe and background. In addition to having your avatar on your profile page, you can also export your image to use elsewhere.
Read our recent interview with Ryan Luan and get all of your questions about Karooba Avatar Studio answered!
How would you describe Karooba Avatar Studio in a nutshell?
Karooba Avatar Studio allows users to make virtual avatars to express themselves. The user can start from one of four templates — real male, real female, cartoon male, cartoon female. After making a lot of fun customizations to their avatar, the user can export the avatar to JPEG images in different sizes and freely distribute for use anywhere they wish!
What is your favorite aspect of the application?
The user can try to make an avatar that looks exactly like his or her real face, or make something funny. All facial elements — eyes, noses, lips — can be adjusted in width, height and horizontal and vertical positions, so there are limitless combinations. The Karooba Avatar Studio is very fun to use and encourages the use of creativity to make each avatar a personal work of art.
What's been the most surprising thing you've encountered?
Karooba Avatar Studio provides a surprisingly large number of pre-defined items that can be used to create something truly unique. With 25 different upper dresses — jackets, shirts — for the figure of real male and over 30 upper dresses for the figure of real female, it is full of treasures and surprises.
What would you say to someone who wants to create an application?
Ning is serious about what kind of applications they accept. They have a high standard and they watch every detail. At the same time, their staff is very helpful and willing to help. Send them an email when you have questions.
What plans do you have for Karooba Avatar Studio's future?
In the future, Karooba Avatar Studio will be updated to allow close integration with Ning and other platforms supporting OpenSocial. For example, a button will be provided to save avatars to photo albums in your profile. More interaction will be added to allow avatar sharing with your friends.
Tell us more about yourself and where you are from!
Karooba Avatar Studio was developed by Karooba.com, a site that is dedicated to fun learning and education-oriented social games. Located in Stillwater, Minn., Karooba.com has developed trivia games in a few OpenSocial sites. Karooba.com involves the collection of trivia questions from registered users who can earn prizes as questions are added to the Karooba collection. Then, these questions become the foundation of fun, educational trivia games. The games can be played solo, or as part of a fast-paced trivia tournament. It's so much fun you won't even know you're learning!
About OpenSocial: An OpenSocial application is a feature that you can add to your profile page for fun, communication or business. Add it to your page by clicking the "Add Applications" link in the left hand column, beneath your profile photo. This will take you to the applications directory, where you can scroll through the list of available applications or use the search box to jump to a specific one. Then click on the "Add to My Page" button and and confirm by clicking "Add Application".