Reach your inner creativity at CoachCreativeSpace
Ning Network Spotlight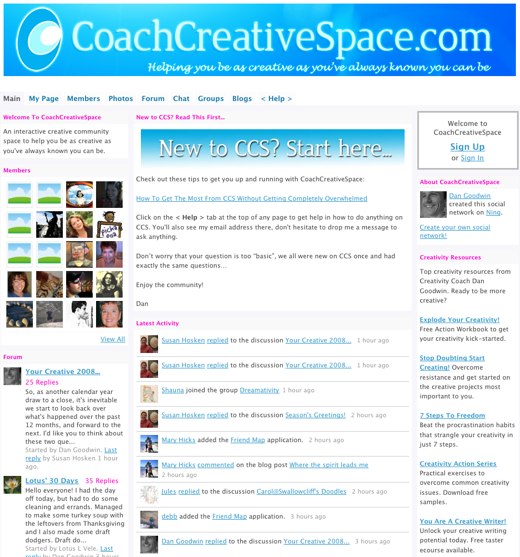 CoachCreativeSpace network's purpose is to help you harness creativity into making great art. It certainly works for the more than 350 members, who have joined to share their work and help each other reach new heights.
Members have filled the Photos tab with their projects, like custom handbags, some inspired photography of wintry landscapes and lovely abstract paintings. More touchingly, they've taken the time to comment and discuss each others' work — they understand the emotions conveyed by this piece, "stressed," and are eager to share their thoughts. With this kind of feedback, CoachCreativeSpace members can develop their talents far more effectively than they could alone.
Members even make a point of challenging each other to improve, as in this blog post calling for readers to judge their own accomplishments and plan even better ones for 2009. "What will I create in 2009" isn't an easy question to answer, but it's the kind of push that will make you strive for greatness, and it's gotten enthusiastic responses already.
Browsing CoachCreativeSpace is a wonderful way to pass an afternoon, but the network also urges you to create, and then will encourage you to improve and grow. It's often said that the hardest part of doing anything is starting, and CoachCreativeSpace will make you take that key first step and then keep you going.