Recovery is easier with (Bill's) friends
Ning Network Spotlight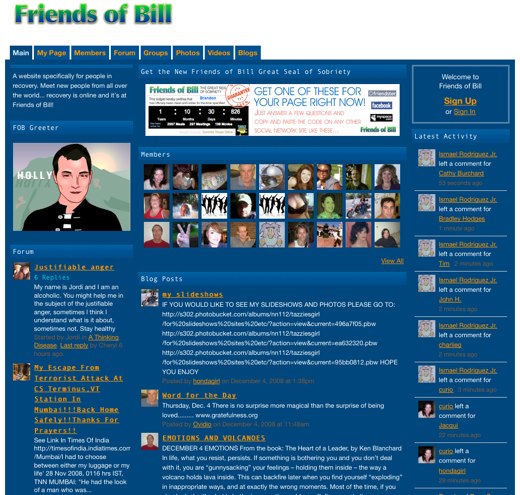 Recovery can be a very difficult thing, whether it's from addiction, loss or injury. That's why friends are so important, and friends are what you'll find at the Friends of Bill network.
You'll discover big and active groups for members struggling together with smoking, alcoholism and more, and find that participants feed off of each others' successes and comments. If you're feeling more introspective, check out the blog, which sees several profound posts added daily. Get ready to think hard about forgiveness, gratefulness and relapsing, and know that your own thoughts will be read and replied to.
Above all, Friends of Bill will let you reach out to others. The forum is full of members of all ages and backgrounds ready to help on your road to recovery, even if all you're doing is asking for ideas. You'll get help, and you'll get the chance to be there for others dealing with situations like yours. It's like a full support system, right on your computer.
Friends of Bill is at once an amazing accomplishment and a home, as its more than 1,600 members prove. There's not much flash, but that just keeps the content and the caring closer. You'll always be able to see something new going on, and that alone will keep you coming back for more.