Resolving conflict with social networking
People Profiles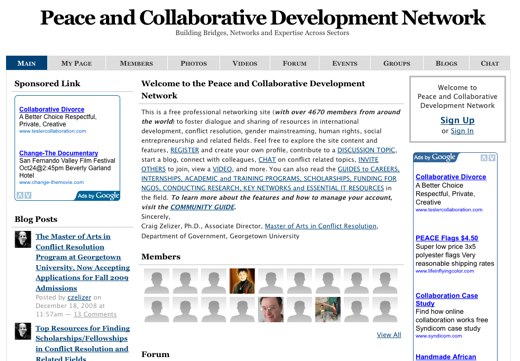 Peace and Collaborative Development Network, an "online initiative to bring together professionals, academics and students involved in Conflict Resolution, Human Rights, International Development, Democratization, Social Entrepreneurship." The Network Creator of this active and passionate network of more than 4,600 members shared network's (and his own) journey.
What do you do to keep your members coming back to the network?
There are several key things to keep people coming back. First, I am striving to create a site that becomes the central resource for anyone interested in peacebuilding, development, social entrepreneurship and related fields. To do this I have focused on several areas.
First, I have been writing up a series of best practice guides so that people will come to the network to find out how to get a job, scholarship, funding, etc. I have continued to add guides to various aspects of the field and these are profiled on the main site.
Second, the site has countless opportunities that are updated almost daily which draws members to regularly visit. I also make use of share function to send e-mails to all members on key opportunities that they may not want to miss.
Third, after a period of time a core group of members has emerged. A number of members now the site as a central point for their own blogging and networking efforts. Building up a core group of colleagues who use the site and encourage others to come has helped tremendously.
Fourth, I regularly post information on the Peace and Collaborative Development Network on other sites/listervs to draw in new members.
Do you have any secrets up your sleeve when it comes to member engagement?
I think a core aspect is building a site that contains core content, new opportunities and the social networking/discussion functions (to talk about debates, questions, ethics). Most people are initially drawn to the network to gain information, but become members to become engaged in discussion of practice, research, find partners, etc.
I have also established clear forum discussions where members can easily find the appropriate space to post their material.
In addition, the site has an extensive community guide, which provides information on how to use the site.
What advice would you give someone who wants to create a network?
Follow your Passion – Try to develop a network that focuses around issues, in which you have a strong interest/expertise.
Try to make your Site the "Go-to site." If you can make your network a central resource for people interested in your topic, this will help the site grow. To do this, you need to provide solid content in combination with the social networking/discussion aspects. In addition, if you can identify existing gaps in the field and build your network to fill the gaps, this will help in fostering growth.
Be Innovative — keep developing new topics and tools — Ning is terrific for this given the constant updates.
Have fun.