Rock out like it's the '80s at The Glamnation
Ning Network Spotlight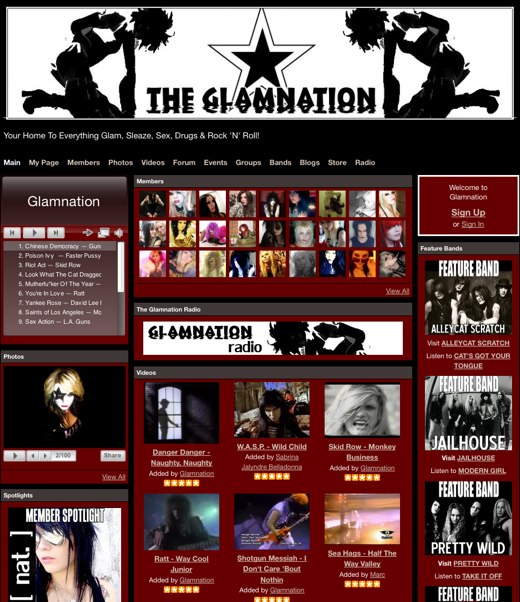 The Glamnation network's more than 3,800 members are living proof that glam rock and hair bands will never die. A network about bands that live by being flashy needs a lot of content of the bands in action, and Glamnation delivers.
Glamnation cuts right to the core of successful glam bands, the over-the-top aesthetic, and shows off 17,000 photos of members with the intense hair, wild outfits and serious musicianship that make glam rock a phenomenon. You'll also find almost 1,000 videos of the biggest and best glam bands performing, from Guns N Roses to Quiet Riot. Take note of all the YouTube embeds, which make it easy to quickly add a lot of content. This much quality material will keep members coming back.
Glamnation makes the most of Ning's premium services to keep the rock 'n' roll in your face and the members returning. Instead of ads, they've used the Premium Service "Control the Ads" to add in a module of featured bands. This leads to more surfing on the network and also helps their business, since Glamnation sells compilation CDs including these bands through each band's profile page. Glamnation has also carefully selected Featured members for its Main page members module, so that you see a great diversity of proper glam dress and looks.
There are quite a few glam bands out there and a lot of history to respect, but Glamnation's focus on great photos and videos from as many of them as possible makes it a great network in the field. There's so much solid material that you can almost relive the height of the glam movement.