Rock out with JukeBox
Ning Apps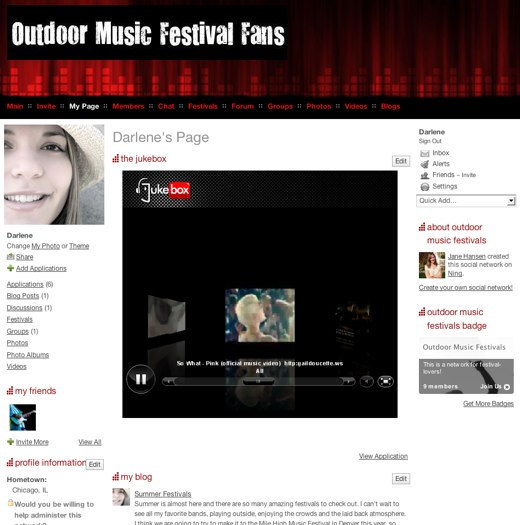 Show off your favorite music in style with JukeBox. Start by adding this OpenSocial application to your profile page on any of Your Social Networks on Ning. From here, you can create playlists complete with music videos and lyrics for each song.
Pick from your own music selection or add popular songs from JukeBox's "Top 10" playlist. Your friends can easily scroll through your collection and add your songs to their own playlists. Learn more about JukeBox in our recent interview with developer Victor Agudelo. Check out his answers after the jump!
How would you describe The JukeBox in a nutshell?
Jukebox is an application that lets users create and share their playlists.
Where did you get the idea for The JukeBox?
In my country, traditional jukebox is very popular. I wanted to create a jukebox in social networks.
What is your favorite aspect of the application?
Integration with YouTube and the way you can share songs and playlist with your friends.
What would you say to someone who wants to create an application?
Be innovative and focus on launching a first version.  Then, you can improve it.
Do you have any advice for The JukeBox users?
Use the application, share music with your friends. As much as you use it, you like it the more.
Tell us more about yourself and where you are from.
I am Victor Agudelo. I am Colombian, and I live in Medellin. I have a lot of experience developing applications in Social Networks. I work for Mentez, the global leader application developer. They promote my applications and help me to monetize it.
About OpenSocial: An OpenSocial application is a feature that you can add to your profile page for fun, communication or business. Add it to your page by clicking the "Add Applications" link in the left hand column, beneath your profile photo. This will take you to the applications directory, where you can scroll through the list of available applications or use the search box to jump to a specific one. Then click on the "Add to My Page" button and and confirm by clicking "Add Application".