A social network for a Broadway show?
Ning Network Spotlight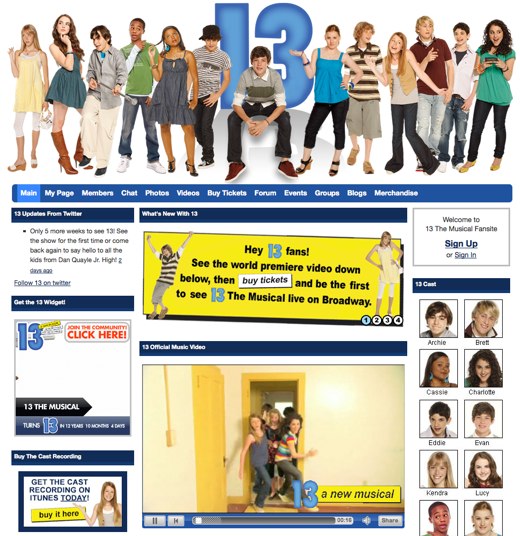 13 The Musical Fansite is the official fan network for the Broadway musical, Thirteen. This is the first time we've seen a social network created in support of a Broadway show and it's a great example of a few helpful tricks to make your social network successful.
Network Creator and Thirteen producer Ken Davenport understood that he needed to market this network differently from his other social network, BroadwaySpace, as it was mainly geared towards teenagers. The social networking idea for a fansite "exploded right away."
Marketing events were introduced in order to get members fast. "I think a great social network is like a [spinning] top," Ken said, "If you spin it at the right angle with the right speed at the beginning, it should spin by itself for a long long time."
To spin the top, teens were invited to a full dress rehearsal of the show, which they had to RSVP for on the Events section of the network. This required them to join the network.
"The biggest challenge is to make sure you are feeding these people with activities," Ken said. Every so often, Ken makes an effort to keep the top spinning by adding something new. Contests, such as the Commercial Contest, are a great way to keep your members interacting with each other. For smaller networks, you may have to prime the pump by identifying passionate members to participate upfront and spread the word, but it's worth it.
With an active membership of more than 6,400 members, you can imagine that network administrators of 13 the Musical Fansite have their hands full making sure that everything on the social network stays in order. Especially with an active chat, administrators stay on their toes. An anonymous moderator account, 13 Hall Monitor, watches over the network to make sure that everything on the network is as it should be.
"The goal is to try to get the community active on its own" Ken said, when asked what advice he would give to a budding Network Creator. "[Creating a network] does require more maintenance and support than people think — you do have to monitor and spin that top once in a while. You have to get everyone to buy into it. That's what creates the social network."