State Department bridges borders with social networking
Ning Network Spotlight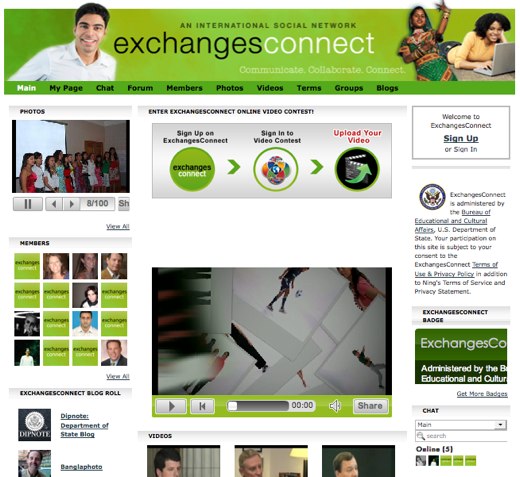 At a press conference this week, the U.S. Department of State announced the launch of its new social network, ExchangesConnect. The goal of the network, is to encourage international exchanges and to help enhance the U.S.'s image abroad, especially with younger generations.
We've previously highlighted how contests are a great way to drive membership on your network, and ExchangesConnect has a video contest running conjunction with their launch. Members are encouraged to sign up and upload a video with the theme "Share Your Story: My Culture + Your Culture = ?" The contest runs through the end of January, 2009. Four grand prize winners will be selected — two international and two Americans — and will win fully funded, two-week international exchange program trips.
Looking for more information about the content? Watch the intro video! Highlighting an introduction video like ExchangesConnect has done is a simple way to introduce members to what your network is all about. Their introductory video sports the network's watermark, which is a useful way to brand your network's content — especially when it's embedded and posted far outside of your network.
Officially launched only days ago, ExchangesConnect already boasts more than 1,400 members. Of course, with a network with a global reach, this is only the beginning.
Sign up today to make your first connection.