Taking a survey of Land Surveyors United
Ning Network Spotlight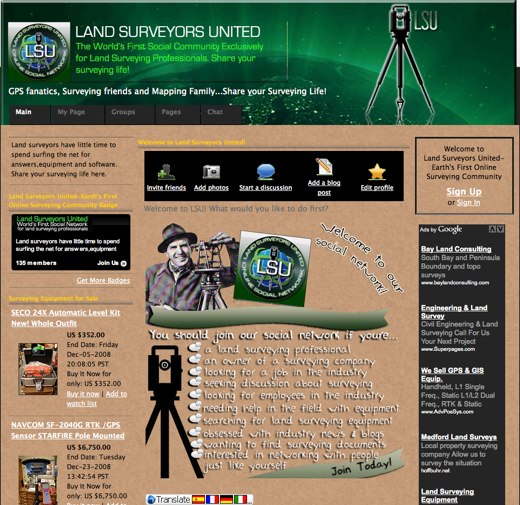 Ebay sellers, day traders and bloggers are constantly online. But, for a profession that's less known for its online aptitude, it can be a bit more difficult to find an audience on the Internet. That's why Land Surveyors United is so remarkable. It's a social network for land surveyors who are (in the words of Network Creator Justin Farrow) "stuck in the woods or rural areas for most of their life without Wifi or Internet access."
The network provides a place for land surveyors to trade information — including files, tutorials and equipment experiences — while networking with other surveyors. While the network isn't huge (and how could it be, with only about 3,000-5,000 land surveyors across the globe online at any given time?), Farrow says it's attracting about five new members each day. Especially with the economic downturn, the network has become an asset to land surveyors looking augment their existing skills and expertise in a cost-effective way.
"Our numbers have grown slow and organically," Farrow explained to us. "As local surveying markets have slowed down, there has been an increase in need for jobs. Tech support (due to LSU) can now in any ways be self-taught." This is done via groups and one on one interaction between existing members. Members can also learn via blog posts on topics both general and specific.
Where the network has succeeded is by targeting a specific audience, and know the information they are looking for. While there aren't hundreds of thousands of land surveyors out there, the ones that get some time to sit down in front of the computer will want to turn to Land Surveyors United for career development, job help and more.