Reunite with your classmates, every day
Ning Network Spotlight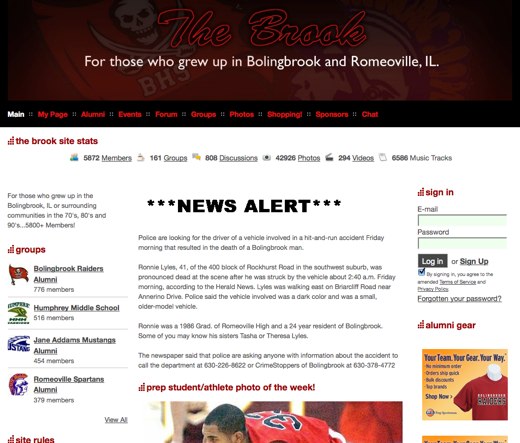 For those who live or grew up in Bolingbrook and Romeovillege, Ill., the need to attend those long-awaited high-school reunions may be dimming. That's because at The Brook, you can reunite with your old classmates every day, no name tags and haircuts needed.
The Brook's members are full of pride in their suburban Chicago hometown. And the network is doing a terrific job of turning that pride into meaningful, valuable activity on the network. The network's 10 administrators are listed prominently — with photos — on the left side of the network, so not only do members know who to turn to with questions, but there's a decent chance you went to school with at least one of them!
And there's always a Member of the Month featured on the Main page, which encourages other members to participate and be selected the next month.
At Ning, we're often asked about the best ways to monetize your social network. Well, The Brook leads by example. They've purchased the Premium Service "Control the Ads," and they've replaced the standard Adsense ads with ads for "Alumni Gear" — which likely leads to higher revenue than typical ads, as it's very well-targeted The Brook's members.
So if you called The Brook home or just want to see what alumni networking is all about, head on over!