The gift of giving at the 29-Day Giving Challenge
Ning Network Spotlight
People Profiles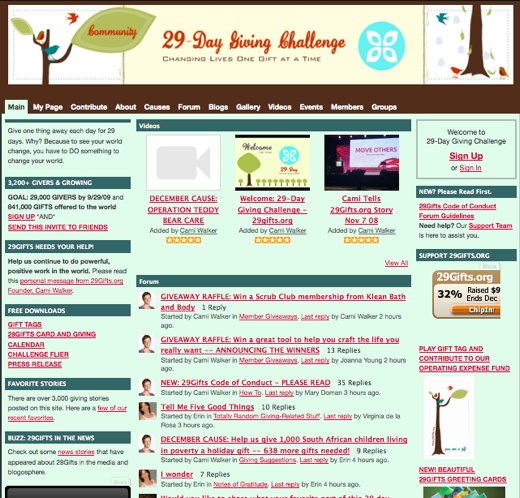 When last we checked in with the 29-Day Giving Challenge, Network Creator Cami Walker had a goal of inspiring more than 2,000 people to join her network. Today, five months later, her network has more than 3,000 members who all participate in the challenge.
The premise of the 29-Day Giving Challenge is a simple one; members sign up to give a new gift each day for 29 straight days. The gifts don't need to be wrapped with a bow — they can be kind deeds, words of gratitude or some other heartfelt gesture. We wanted to hear directly from Cami how she was able to make the network flourish, and where she gets her own inspiration from.
How did you get the idea to start a network? Did you think up the challenge first and then create the network? Or did it go hand-in-hand?

I thought of the idea to start the 29-Day Giving Challenge because one of my spiritual teachers suggested I give away 29 gifts in 29 days, at a time when I was struggling in my life. Mindful daily giving made such a huge impact on my own life, I decided to build a Web site and invite others to join me in the challenge. I wanted to create a global giving community where people could share their stories and connect with one another. I did research on different platforms. Ning had all of the features I wanted and was incredibly easy to implement.
How has having an interactive space helped the project grow?
The interactive community makes it possible for 29Givers all over the world to share the impact it makes on their lives to offer their gifts to the world. It allows us to exchange ideas and stories with each other and provides us all with inspiration to keep giving.
Which network features do your members use the most?
The blogging feature is the most popular. People use their personal giving blogs to document what they're giving, what they receive and the changes they see in their lives as a result of the 29-Day Giving Challenge. Our discussion forum is also widely used to share giving suggestions and other information with each other. People also upload a lot of images in our community gallery. We use the event feature to host monthly virtual community events that people enjoy a lot. In September, we had Kindness Rocks day — we all decorated rocks and gave them away. In November, we celebrated Gratitude Greetings Day and made greeting cards to give to family and friends.
What's been the most surprising part of running the 29-Day Giving Challenge?
I've been wowed by how quickly our community has grown. We have been online seven months and are now more than 3,100 givers strong. There are 29Givers registered in 38 different countries around the globe. All of this growth has come from word-of-mouth activity. People invite friends, who invite friends. We're a true grassroots movement and I'm so grateful to everyone who continues to spread the word. I think the 29Gifts.org community is a wonderful example of how everyday people can come together and combine imagination and collaboration to be a powerful collective force for good on our planet.
What advice would you have to someone who wanted to create a network based around inspiring people to live better lives?
Develop a strong identity, voice and personality for your network and enlist your members to help you grow. 29Gifts has a team of volunteers who take an active part in keeping our community growing and operating smoothly by welcoming new members, encouraging people to participate and stimulating intelligent discussion. Our network attracts a lot of first-time users of social networking and blogging technology, so our Welcome Wagoneers also help provide technical assistance to members who need help getting started.