Tonight's release is live on your network
Updates
We're happy to announce that tonight's release is live on your network.
With this release, you now have the ability to conduct advanced searches — with multiple criteria — for fellow members of your network. You can also decide the order of comments across features on your network, as well as choose which profile page OpenSocial applications won't appear on your network.
Advanced Member Search
We've made it even easier for members to find other members on your network. On this Advanced Member Search page, shown below, members can not only search by name, gender and location, but by any of the network's profile questions: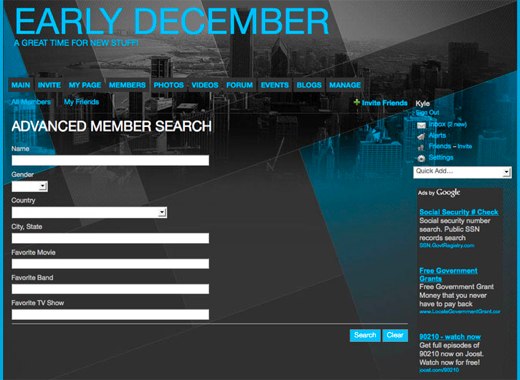 Comment Ordering
The order in which comments appear, on features like videos, photos, profiles and groups, has changed from oldest first to newest first, to better emphasize fresh content. In addition, you can now control the order of comments on a feature-by-feature basis. To do this, just head to the Manage page and click on "Feature Controls." At the top of the page, under "Comments," you have the ability to have comments on all features appear newest to oldest, oldest to newest — or decide the order on each feature, individually.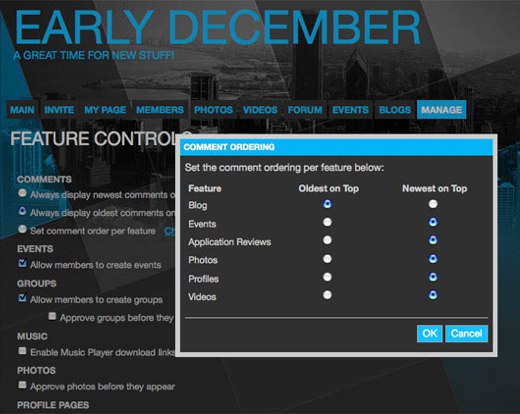 OpenSocial Application Removal
This fall, we introduced OpenSocial applications to profile pages. With nearly 100 OpenSocial applications now available, your members can quickly add maps, share files or play interactive games, all from their profile pages.
Now, you have the ability to remove specific applications your network's application directory. You'll now see a small "X" next to each application, so long as you're signed in as a Network Creator or administrator. Clicking the "X" will remove the application from your network's directory.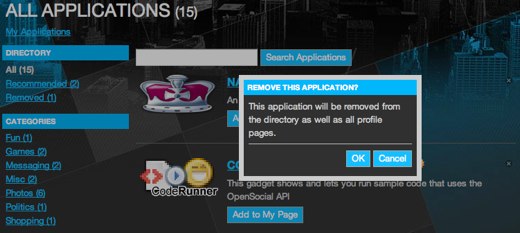 For more details or to ask us a question, please visit the Ning Help Center.