Tweets, right on your profile page
Ning Apps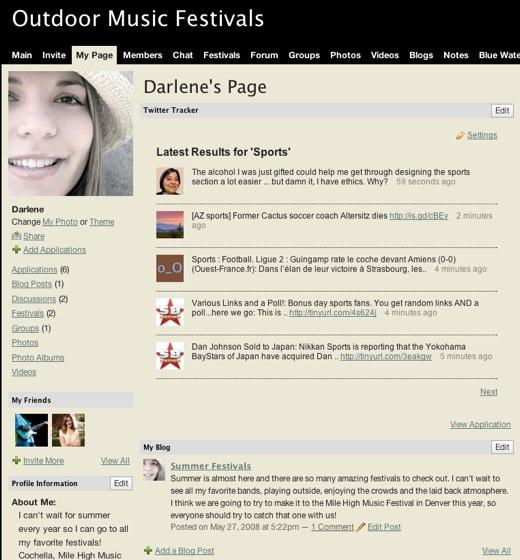 Stay up-to-date on the latest Twitter news directly from Your Social Network on Ning.
Until recently, if you wanted to load some Tweets on your profile page, you had to embed a Flash Twitter widget, which can be somewhat limiting in its design and scope. Now, you can have Tweets show up on your page — and fit right in with your network or profile page's theme and design.
All you need to do is add the Twitter Tracker OpenSocial application to your profile page, and you'll have a Twitter feed ready to go. Once you've added the application, click "Settings" to decide what Tweets you want to feed into your page. If you want to show off all of your Tweets and Tweets at you, just type in your Twitter username.
Or, you put the application to more general use. For example, if you type in the word "Ning" and click "Save." All Tweets across Twitter containing the word "Ning" will then be fed into your profile page, without any more action on your page! Search for your favorite celebrities, sports, events and more to receive updates specific to your interests. Or, if you're a Network Creator, enter the name or URL of your network to see what people are saying about it on Twitter.
You can even customize how many posts show up on your page and refresh when you receive a new result notification so you are always seeing the most recent tweets.
About OpenSocial: An OpenSocial application is a feature that you can add to your profile page for fun, communication or business. Add it to your page by clicking the "Add Applications" link in the left hand column, beneath your profile photo. This will take you to the application's directory, where you can scroll through the list of available applications or use the search box to jump to a specific one. Then click on the "Add to My Page" button and and confirm by clicking "Add Application".