Your daily dose of Daily Kos
Ning Network Spotlight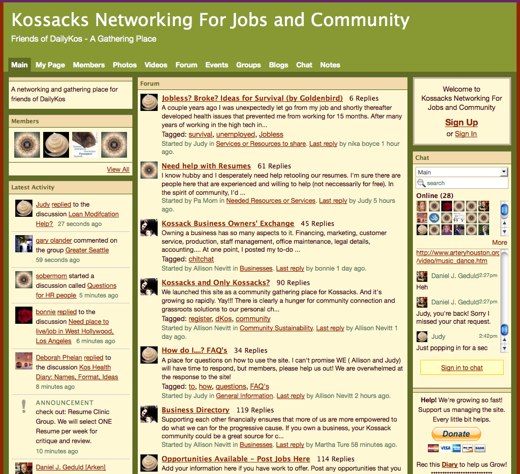 Democrats looking for a mix of news and opinion turn to political blog Daily Kos on a frequent basis for the best and brightest political commentary. Now the blog's fans, or Kossacks, as they've named themselves, have a place to network, job hunt and continue the conversation at Kossacks Networking.
Network Creator Judy launched the network in mid-November after reading comments on the blog about the economic hardships that various readers were going through. Kossacks Networking already boasts more than 2,700 members who are working on helping each other find work, save money and make those oh-so-important connections.
Kossacks Networking's administrators, Judy and Allison, are constantly posted blog and forum posts and engaging with the network's members. Administrators who post frequently (and enthusiastically) are a crucial ingredient for rapid network membership growth.
With unemployement at more than six percent nationwide, finding a job is getting harder. The job-hunting experts say getting a job is all about networking. Increase the number of people you know while engaging with savvy political thinkers when you join Kossacks Networking.