A chat with Jonathan Crabtree
People Profiles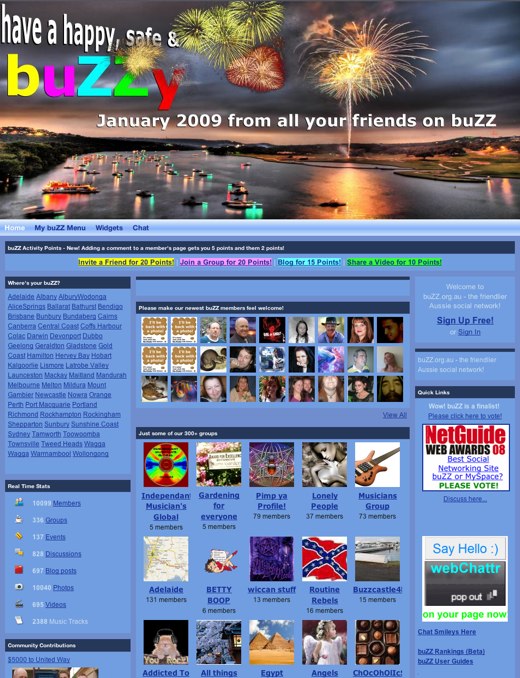 We recently blogged about some exciting news for Buzz. Buzz was nominated for a NetGuide Australian Web Award in the "Best Social Networking Site" category. To find out more about the network's roots, successes and future, we exchanged emails with Buzz's Network Creator, Jonathan Crabtree. Check out his answers after the break.
Tell us about yourself
My name is Jonathan Crabtree and I live and work in Geelong, a small town in Australia.
While I'm aged 47, I still feel like a kid and believe I can help change the world for the better! Maybe the reason for my optimism comes from the fact that I smashed my spine pretty bad 25 years ago and I was told if I moved I'd never walk again. So I made a personal deal that if I could regain my health and have a family, I'd do two things with my life! My first goal was to raise $1 million for charity and my second goal was to change the way the western world taught mathematics. This was despite my having no teaching qualifications or training in mathematics and the fact I once failed math at school!
Where did the idea for buZZ come from?
It's a little odd that Ning has been involved at the start of my online life. You see, it was really the advent of Mosaic/Netscape created by Ning founder Marc Andreessen, that got me more involved with the Web in the early-to-mid 1990s. At that time, the Web was mainly for university students and people were debating about whether or not images should appear on your Web page!
A few years later I had an idea I called 'careware' and I wrote to Microsoft with an idea to raise awareness of and money for the end of starvation. At the time Microsoft's lawyers wrote back saying I had to hand over all intellectual property to Microsoft before they would consider my idea. So fast forward a few years, and I created a mobile/cell phone portal in WAP (wireless access protocol) and began to work with a telecommunications company.
This led to an idea I had called World Message Day which was to be another attempt of mine to use communications and content sharing technology for social justice. The idea of World Message Day is simply to have a global election/referendum every eight years where the world gets to vote what is the no. 1 priority world leaders need to focus on. The votes are cast by email and SMS with any additional revenue generated on the day going to feed the starving. I got quite a bit of support for the idea from presidents, prime ministers, Nobel laureates and others, yet almost no support from the telecommunications companies!
See # for my old site — which I'm probably convert to Ning for the next WorldMessageDay on the May 1, 2012!
Fast forward a few more years, and Ning comes along. Awesome! I finally get a chance to focus on connecting people with ideas and content rather than worry about code.  I built the buZZ network a year ago at home when I was on holiday. It was really easy even though I was on dial-up at the time! My employer GMHBA then agreed to contribute $1 per member to local Geelong charities up to a maximum of 5,000 members. At the time we thought 5,000 members was a long shot!
So after 5,000 members were achieved and $5,000 provided to United Way Geelong, I simply let the buZZ members vote on what the most important social issue was to them. GMHBA then agreed to contribute another $1 per member until buZZ reached 10,000 members with the money going to a cause the members voted for.
The buZZ members voted for the issue of homelessness, so another $5,000 courtesy of GMHBA went to the Mental Health Council of Australia who are releasing a major report on the issue of homelessness next month.
Why did you choose Ning?
I've run blogs over the years on a variety of platforms such as WordPress and Blogger. However the content creation is very much a one-to-many task/burden. So I liked the fact that Ning presented a simple many-to-many content and communication platform that was truly plug-and-play ("drag and drop") in the best Web 2.0 tradition.
Ning also provided the viral tools via the address book importing function to help spread the word online. I've looked at a variety of other Social Network platforms as a possible Plan B, just in case, yet don't have the time or expertise to implement another solution.
Ning is inexpensive enough not to go open source even though, as a rule, I'm an open source fan! Running Google Analytics and integrating other add-ons is really quite easy. The MySpace type graphic freedom options for members is nice while still having the order and discipline of Facebook.
So to me Ning is a nice social network solution that caters for all those special interest groups and niches out there.
What is the most surprising thing you have encountered in running your own social network?
On buZZ, we don't run any advertising and only not-for-profit groups and individuals can register. We also moderate content and remove any objectionable content inappropriate for people aged from just 13. Running a swearword filter early on meant that we got a bit of flack from ex-MySpace users who wanted to swear and behave in anti-social ways.
So the surprising thing is only 3 percent of our members are aged under 18 and the buZZ community has a really strong sense of community among our relatively small active user base. The friendships on buZZ are very real, which reflects the fact I've never automated friendship like 'Tom' and I've participated with the buZZ members and not been a faceless person behind the scenes. So the tone and standards you set at the start, provided they're enforced, will create a true online community.
Do you have any tips for new Network Creators?
Run live events where the members can interact with you! We've done live broadcasts of bands, and crazy cam shows via ustream.tv, Rock Chat shows (via Mogulus) and even have a regular Friday Night Quiz via chat! Because NCs have control over the menu, there's no reason not to incorporate live webcams and other entertainment. Check out the video on the buZZ.org.au home page for ideas!
Tell us more about your recent award nomination
Firstly this was a total shock to me and I only found out when members mentioned they'd discovered buZZ.org.au because of our being shortlisted for best social network in Australia for 2008 in the NetGuide Web Awards. We're up against to media empires in News Limited (which owns MySpace) and Fairfax Media (which owns RSVP), a huge dating site in Australia. So I think it's pretty funny that we're even being compared to these sites that have had millions of dollars invested in them compared to the almost insignificant costs involved with buZZ. I certainly don't expect we'll win because it's based on a poll, yet if you'd like to cast a vote for an Aussie underdog, please head here and vote buZZ!
What plans do you have for buZZ's future?
Regardless of this potential award, the plan is to give buZZ.org.au away for free to a not-for-profit organization that helps the homeless. Social networks have been proven to help isolated people and people with mental health issues. So it would be great if there could be a safe trusted online environment where people can feel at home — even if they don't have a home.
I'd stay on as an administrator to help the new owner, and we have a great team of members who will help to maintain the social network.