Bust a move at the Top Secret Dance Off
Ning Network Spotlight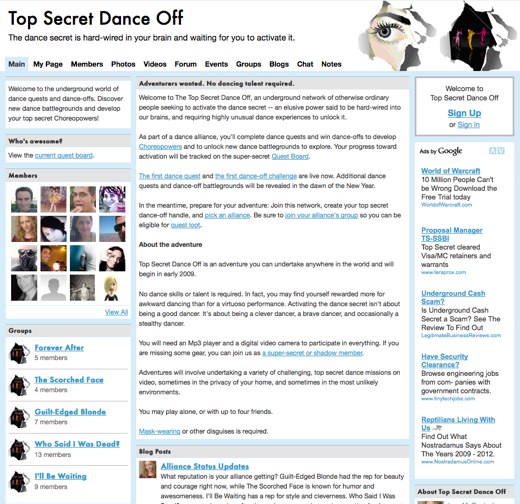 Top Secret Dance Off is "an underground network of otherwise ordinary people seeking to activate the dance secret — an elusive power said to be hard-wired into our brains, and requiring highly unusual dance experiences to unlock it.
Top Secret Dance Off is a game, or challenge, based around the social network and some sweet dance moves. Says network creator Punky McMonsef, "I'll be the first to admit. I'm not a fantastic dancer. I am, however, an enthusiastic dancer. When I'm not too embarrassed to dance, that is. So TSDO is unleashing the top secret awesome dancer in me. I hope it unleashes the top secret awesome dancer in others."
Members of the network participate in specific dance challenges. The first one, Dance Quest 1, asks that members create a disguise that hides their face, video tape themself dancing, and then post the intro video on the network. Dance Quest 2 is a little more complicated — it requires a video tape of dancing upside down. The next challenge, Dance Quest 3, is even more difficult, and challenges members to dance in disguise in a crosswalk. This one is a difficult one, and members are told they need to complete the first challenge before attempting the third.
Beyond celebrating the joy of dancing, TSDO is also a contest. Members receive points for each quest they complete, as well as for comments left on their videos by other members. You can't win — nor can you shake your groove thing — if you don't join the network. There's no need to worry if your dance skills aren't amazing.
After all, Top Secret Dance Off isn't about being the best or most professional dancer: "It's about being a clever dancer, a brave dancer, and occasionally a stealthy dancer."