Coming Next Week to Your Social Network on Ning!
Updates
As we've mentioned, we're working hard on a number of changes that will soon be coming to your social network on Ning. Here are a few things currently scheduled to be released on Thursday, February 5th:
Redesigned Latest Activity Feature
The prominent placement of your social network's Latest Activity feature is one of the best ways to keep your social network engaging and dynamic. We've rearchitected the back-end and updated the design and detail of activity items to make this feature even more compelling. Here's a screenshot (click on the image for a closeup):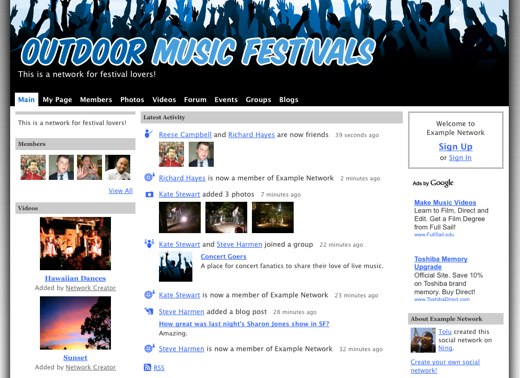 Your new Latest Activity feature will utilize a brand-new set of icons, which we're rolling out across your social network. Latest Activity feeds on profile pages, which previously had no icons or avatars, now have the same icon set shown on the Main page of your social network.
UPDATE: To ensure a smooth transition in updating your social network's Latest Activity feed, we'll be  rolling this change out over a period of days. We'll keep Network Creators regularly updated about the status of this rollout.
Multiple Administrator Levels
Also with next week's release, you will be able to create multiple levels of administrators to help manage your social network. You'll be able to access this new feature by heading to the Manage page of your network and choosing Members. You'll see an option to "Manage Roles." You can create up to 20 new administrative roles for your members, mixing and matching as many permissions as you see fit: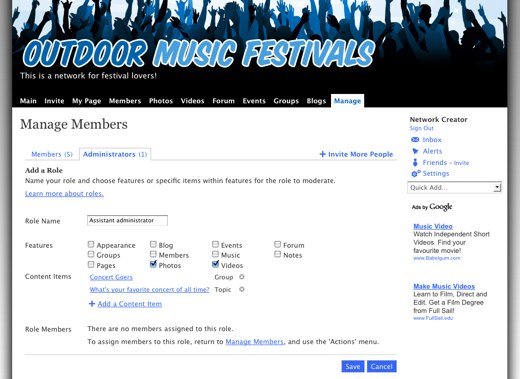 In addition to control over an entire feature, you can give a member the ability to administer a specific piece of content. This is great when you've got a big social network and a photo or a video is extremely popular. All you need to do is paste the URL of the content item when creating or editing the role.
Once you've created a role, you can now assign as many members to that role as you see fit on the Members page. With the help of these multiple administrator roles, it's even easier to rely on members to help grow and run your social network on Ning.
New Settings Options
In this release, you'll find an expanded set of privacy options on your Settings page. Using these settings, you'll have more modular, precise control over which notifications you do and don't receive.
Members will now also have the ability to decide whether to show their birthday, their birthday and age, or neither. Members who have left "Don't display my age" checked in their settings will continue to have their age hidden, but they will now appear in your social network's birthday feature.
Required Profile Photos
We've heard the request from a few of you to add the ability to require members to add a profile photo when joining your social network. While this may reduce the number of members who join your social network, you'll have this option after next week's release.
To set this up, go to your Manage page and choose Feature Controls. From there, choose the option to make the profile photo required.
Please drop us a note in the Ning Help Center if you have any questions about this release and we're looking forward to your feedback!