Customize with Hypercube
Ning Apps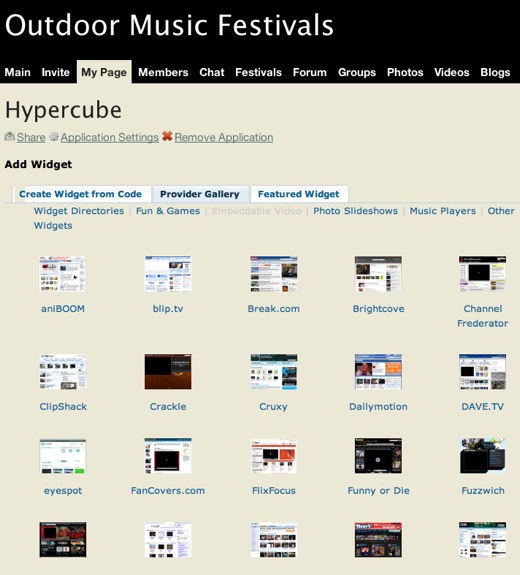 Customizing your profile page with your favorite widgets, songs and videos can be done from one spot with "Hypercube," an OpenSocial application.
Once you add Hypercube to Your Social Network on Ning, you can scroll through more than 150 publishers, each with a variety of embeddable content. Whether you are an expert or beginner with widgets, Hypercube's set-up makes it easy to find and add the content you want on your profile page.
If you are looking for ideas, you can scroll through the provider gallery for a list of categorized widget sorted by Fun & Games, Embeddable Video, Photo Slideshow and Music Players or check out the daily featured widget. If you already know the widget and code you want, you can skip this and go directly to the "Create a Widget from Code" tab. On this page you can paste in your code and create a name for the widget. Once you click "Create Widget," your widget will now appear in a new tab inside Hypercube.
Hypercube was created by Mesa Dynamics. To find out more about this OpenSocial application, I interviewed Hypercube's developer, Danny Espinoza. Read his answers after the break.
How would you describe Hypercube in a nutshell?
Hypercube allows Ning members to collect, embed and run "web widgets" (flash video, games, music players, utilities, etc.) in one application inside their profile page page. This means you can embed YouTube videos, the Bejeweled game and an Internet music player inside your Ning page.
What is your favorite aspect of the application?
My favorite feature in Hypercube is its inline widget provider directory with over 150 publishers, including popular favorites such as Google Gadgets, last.fm and Bunnyhero Labs.  The directory is a great way to discover embeddable content, especially for users who are new to widgets.
Do you have any tips for Hypercube users?
Some users aren't sure where to get the widget HTML code to use in Hypercube.  When you're at a widget provider's Web site and have found a widget you want to use, look for the "Embed" option (or for a box labeled "Copy Code"). Then copy this code to your clipboard and paste it back into Hypercube.
What would you say to someone who wants to create an application?
Ning applications are built on OpenSocial, and Google has done a great job of providing sample code and detailed documentation. The developer community is also very active, which is a plus. If you have a cool application idea for Ning and have Web coding experience, then by all means you should jump into OpenSocial.
What plans do you have for Hypercube's future?
We are working on a desktop version of Hypercube that will allow you to not only manage your widgets on your network from the desktop, but also to move widgets from your desktop to your network (and vice-versa). And we're going to improve Hypercube on Ning so that's it's easier to share widgets with other Hypercube users.
Tell us more about yourself and where you are from!
I live in Washington, D.C. and I've been developing widget software since 2005, first on the desktop and then on the web.  I've been a Ning member since 2007 and my company, Mesa Dynamics, was one of Google's launch partners for OpenSocial.
About OpenSocial: An OpenSocial application is a feature that you can add to your profile page for fun, communication or business. Add it to your page by clicking the "Add Applications" link in the left hand column, beneath your profile photo. This will take you to the application's directory, where you can scroll through the list of available applications or use the search box to jump to a specific one. Then click on the "Add to My Page" button and and confirm by clicking "Add Application".