Get inspired at InspireMe
Ning Network Spotlight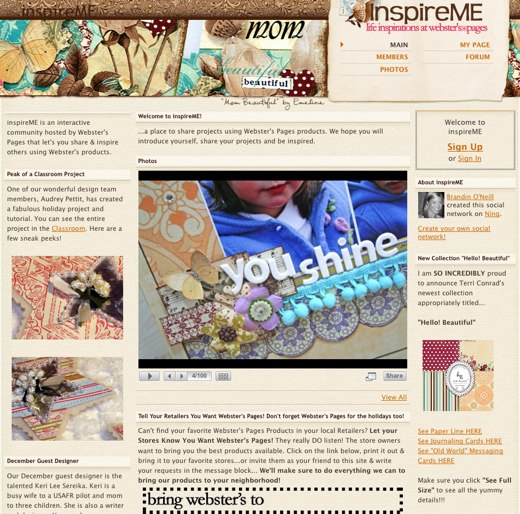 Feeling crafty? The InspireMe network, home to everyone who makes amazing art projects out of Websters Pages products, will certainly inspire you.
More than 500 members have contributed images of their works. The diversity of the collection is truly impressive and will give you ideas no matter what you're trying to make. There's a miniature house with lace curtains, a lovely hand crafted box that was filled with Christmas treats, and hand-made cards and collages of all shapes and varieties. The hours clearly invested in each definitely show.
Once you've finished and are ready to share your work, you can bet that InspireMe's members will check out your creation. It's hard to find a piece that hasn't been commented on, and the encouragement that pervades the network is thick and wonderful. Equally warm are the welcomes for new members.
InspireMe's members mix an awful lot of talent with an awful lot of kindness, making this network a prime spot to learn, to post photos of your latest assemblies, and to be a part of a truly helpful and enthusiastic group of people.