Green Your Theme virtual trade show
Ning Network Spotlight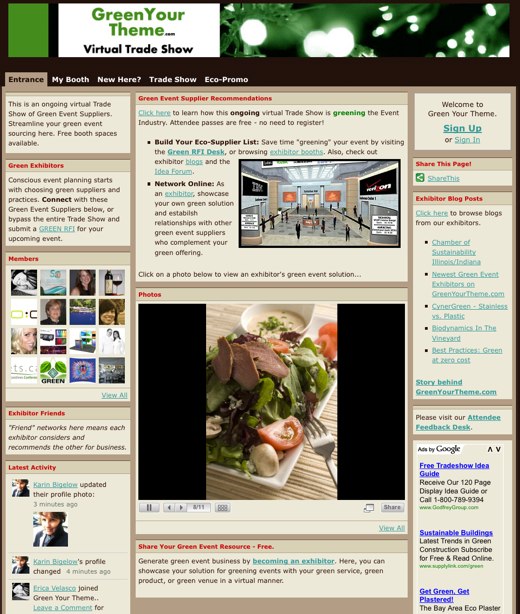 The Green Your Theme network has an eco-friendly mission: They're helping the event industry go green. They've made their network a virtual trade show for green event suppliers and added plenty of ideas to think over while planning, and it's become a great resource.
Many of the more than 100 members have unique contributions to make. Dave "The WireMan" Maskin handcrafts nametags out of recycled wire for fancy events. Michael O'Loughlin provides consulting services oriented especially at making your events more sustainable. Jenny Rae Cortese makes custom recycled coffee sleeves. Even if you aren't planning a big happening, it's really cool to browse profiles and see what unique and special things each member is doing.
If you're looking for samples, check out the photo gallery where members advertise the best of their creations. You'll discover everything from recycled weekly planners to gift boxes to bamboo pens. It's everything you could ever need for a business meeting, wedding, or other fancy occasion, and you'll probably find a few gift ideas too.
Green Your Theme has gotten more than enough support to be a solid stop for the green event planner. It's also a great place to go to be inspired by all of the unexpected and creative eco-friendly offerings you'll discover — even if you don't buy, you might just be motivated to make something yourself and start selling.