Show off your island animals on the Hawaii Pet Network!
Ning Network Spotlight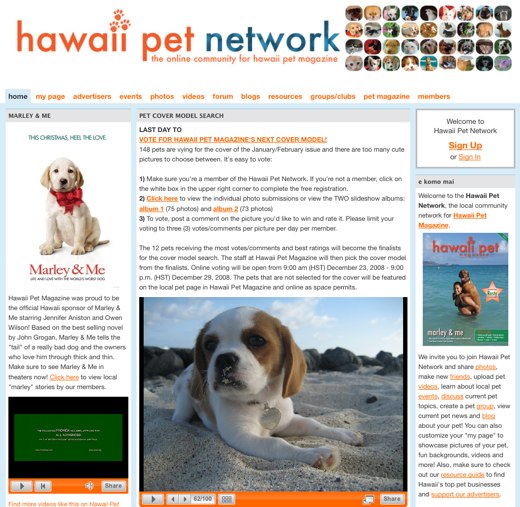 Hawaii is a beautiful place, and the members of the Hawaii Pet Network have decided to share it with their pets. This official network of Hawaii Pet Magazine is the best place to show off your furry friend and find him or her plenty of playmates.
They're some pretty darn cute playmates, at that. Members have taken a lot of pride in posting shots of their lovable companions, and you could spend hours checking out every cute pet on the isles. It's not just photos, though: members also share stories of their pets, and there's a whole discussion about how pets handled the recent blackout on Oahu.
If you're just starting out as a pet owner in Hawaii, or need some specialized care, the Hawaii Pet Network has also compiled a huge array of links and resources to help out, so that you can keep your pet in front of your camera and away from the vet. There's pet sitting, training, a huge listing of pet clubs, and everything else you could need.
The Hawaii Pet Network is a great stop whether you're looking to introduce your companion to the islands, find others with pets like yours, or get a whole new pet in Hawaii entirely. And don't forget the photos of pets wearing Santa hats.