iGetshifty is your home for extreme sports
Ning Network Spotlight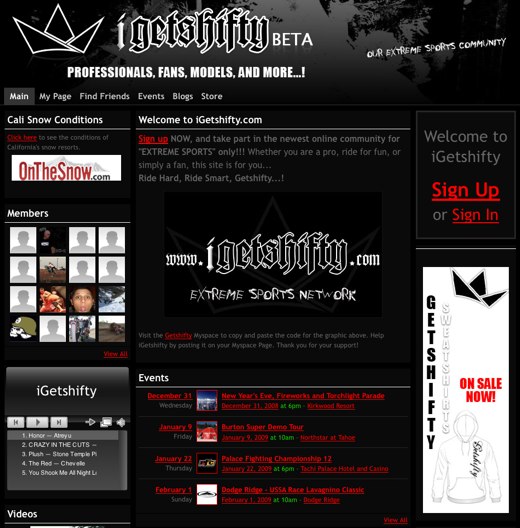 The iGetshifty network is the place to be if you're into catching air, flipping tricks and scoring the fastest race times around. The network shows off the best skills in extreme sports, and helps teach the rest.
There's plenty to keep your heart in your mouth at iGetshifty, from snowboard jump photos to a video of a ski backflip that isn't even off a jump. This is the sort of content that makes you get into extreme sports in the first place. iGetshifty shows you the best so that you have something to aspire to… and it sets the bar quite high.
Once you're hooked, iGetShifty shows you how and where to train. There's a complete map of Northern California skate parks, a guide to California ski and snowboard resorts, and plenty more. It's a nice set of resources to get you started so that you can finally start living your dreams of fancy stunts. It's only the actual hard work and practice that's left to you.
iGetshifty is like a great personal trainer. It gets your heart going with aspirations, and then gives you the info you need to get your heart going with exercise so that you can fulfill them. We'll see you on the slopes.
Let's start create sport website with Ning: https://www.ning.com/sport-website-builder/