Inauguration Week Release!
Updates
Update: This release is slated for the evening of Thursday, Jan. 22.
The new U.S. president isn't going to be the only new thing this week. Later this week, we're also releasing a few minor but important features for your social network on Ning.
We're rolling out the often-asked for member profile privacy settings as well as a few new themes in honor of the day's events.
Currently, your social network's choice of public or private network determines what people can see. We heard many request for members to be able make their profile viewable just to the members of the network on a public network, or just to friends.
With this release, from the Settings page, any member can choose from a few new privacy options for their profile:
Everyone who visits the social network
Only members of the social network
Just your friends
Visitors who don't have access to a member's profile page will only be able to view his name, photo and his basic information, like age, gender and location.
Of course, Network Creators and Administrators will still be able to view all member profile pages in full. In addition, Network Creators and Administrators can limit access to their profile pages, just as other members can.
Along with these new privacy settings, we're also rolling out five new themes for your own social network on Ning. Here they are: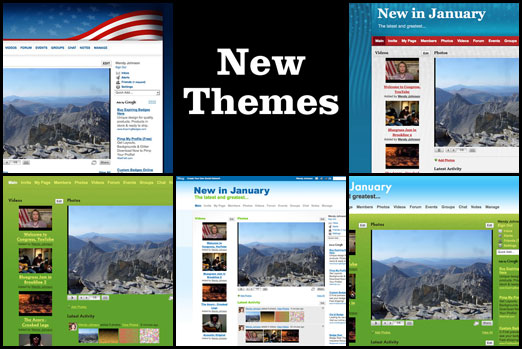 If you have any questions, please drop us a note in the Ning Help Center, at Help ning.com!