Meet the band with Kyte
Ning Apps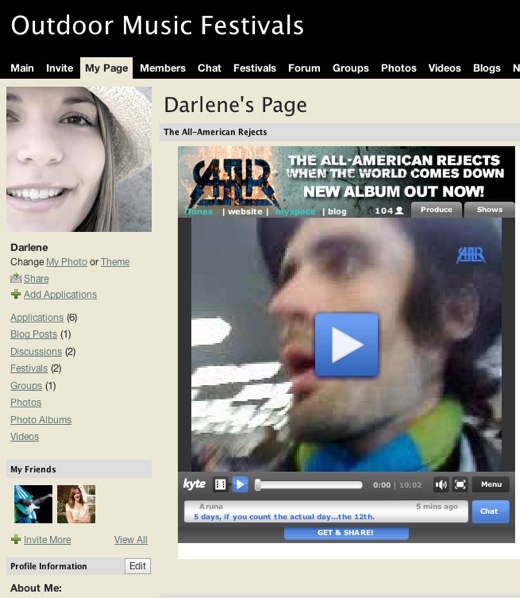 Kyte OpenSocial applications bring your favorite bands like Simple Plan, Jonas Brothers and The All-American Rejects right to your profile page. By adding any of these OpenSocial applications to Your Social Network, you will have access to exclusive features and footage.
On top of having new tunes and blogs at your fingertips, you can also get to know the real side of the band. Tune in for live mobile shows complete with informal interviews and backstage footage. You can also scroll through old shows at any time and even produce your own channel for other viewers to watch. Each application has its own chat feature so you can discuss the bands latest shows and songs with other fans.
To find out more about how the applications were created and continue to grow, I interviewed Ulysses King from Kyte. Check out what he had to say after the break.
How would you describe your application in a nutshell?
We provide an end-to-end online and mobile platform for media and entertainment companies to create, distribute and monetize their digital content (e.g. video, pictures). This content is delivered online via our Flash-based Kyte Player, and to mobile audiences via our Branded Mobile Web offering. Consumers can easily embed branded Kyte channels on social networks, blogs and web sites, as well as share mobile versions of the channels via SMS text messaging.
Kyte Open Social applications for the Ning platform are fully branded, interactive Kyte channels that media and entertainment brands such as 50 Cent, All American Rejects and KCRW (an NPR affiliate in Santa Monica, CA) use to distribute their digital content across Ning's 600,000 social networks. Consumers can add these Kyte channels to their profile pages with a single click from the OpenSocial application directory available on every social network on Ning.
What is your favorite aspect of the application?
There are lots of cool features of the Kyte Player, including multimedia chat (i.e. text and video), the ability to comment and rate shows, and Twitter integration, but my personal favorite are the viral sharing capabilities.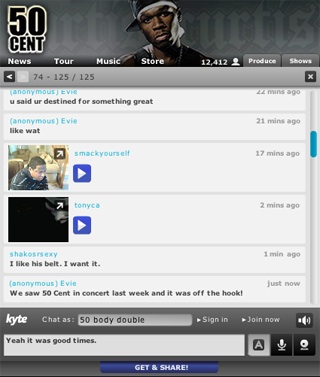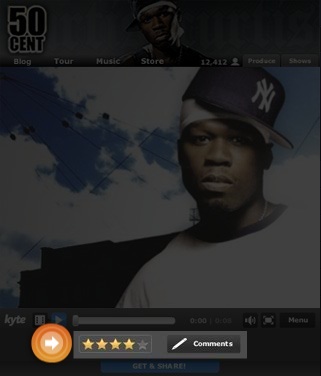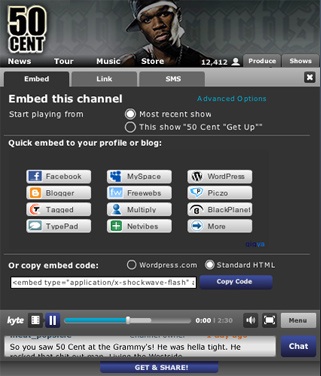 What's been the most surprising thing you've encountered?
We've been very surprised by the different ways our partners are using Kyte. Whether its 50 Cent, Extra, Huffington Post or Extra TV, they are using Kyte to give their audiences raw, authentic content — behind the scenes on tour, red carpet celebrity interviews, on location news coverage, even branded user-generated content campaigns — this is what Kyte is all about.
What would you say to someone who wants to create an application?
Kyte is a great tool for creating, distributing and monetizing your digital content. We provide a cost effective platform that enables brands to reach a wide audience, and engage them for long durations with our interactive features (e.g. multimedia chat, etc.) and ultimately monetize their content through our rich media advertising features.
Companies that would like to inquire about setting up a Kyte OpenSocial application can contact us at business@kyte.com
What plans do you have for the application's future?
You are going to see lots of exciting things from Kyte in 2009, including more options for player customization and video quality, monetization, content management and mobile applications.
Tell us more about yourself and where you are from!
Kyte was founded in 2006 by Daniel Graf and Erik Abair. Prior to founding Kyte, Daniel and Erik created the world's first MP3 Home Stereo Jukebox at a startup company called ReQuest Media. Daniel and Erik also worked together at Philips Consumer Electronics and were key figures behind the Philips Streamium product line.
About OpenSocial: An OpenSocial application is a feature that you can add to your profile page for fun, communication or business. Add it to your page by clicking the "Add Applications" link in the left hand column, beneath your profile photo. This will take you to the application's directory, where you can scroll through the list of available applications or use the search box to jump to a specific one. Then click on the "Add to My Page" button and and confirm by clicking "Add Application".